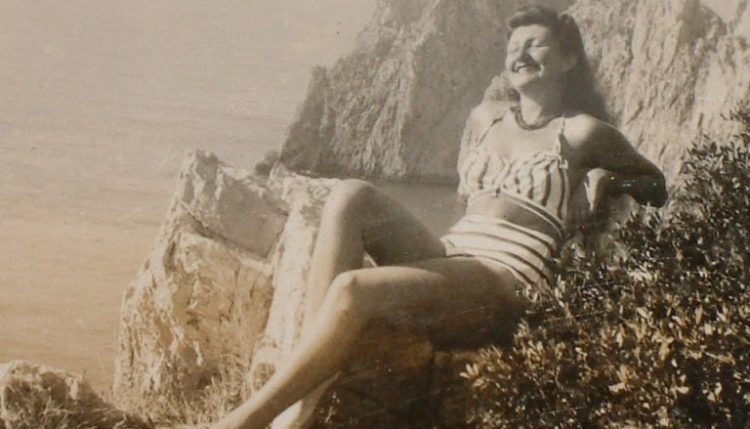 4 | Friday is for Poetry | Venerdi Poesia | "A Lake for the Heart | Il lago del cuore" | Luigi Anderlini
Hi again dear Earthlings!
Lidia D'Onofrio long before she met Luigi
And yes, you are in for another round of Friday is for Poetry.  This time yours truly feels the throbs.  This poem is about her mom.  A beautiful woman who passed away at the age of 48 due to rampant cancer.  It was the first encounter with death and perhaps the most tragic.  And yet it was forming: learning how to connect with the dead, listening to their voices, following their guidance, is what got yours truly where she is today.  As a translator, she learned what the experience was like for her dad.  This is the poem that choked tears in her throat time and time again, reading, translating, reading, translating, reading, translating, until the page was soaked.  Literally.  Her voice choking as she read the poem out loud on occasions.  Yes, as Obama would probably say, this was the best gift "from my father,"
Luigi Anderlini
.  A dream of remembrance for a woman whose magic spins to this day.  She must have heard when he wrote the poem because we later found out that she waited until he came to join her in death.  So be it.  Namaste!
LYDIA
"Sylvia, do you still remember . . . ?"
Leopardi, "For Sylvia"
Lidia D'Onofrio
You've been visiting me for quite a while.
You arrive at dusk
and fill the room
with your dazzling scent.
Tangled, the skein of memories
unwinds, alive.
The kids with us.
The white sun straight up
on the blue of Lake Garda.
A picnic for four on the shore.
Furtive happiness
that expands your smile to the sky.
Small and private paradise
of a human brood.
A week in Paris.
Poor but happy and dreamy.
Hungry, we sit at a sidewalk café
in the shadow of a Danton,
stern and dusty.
"Voila deux oeufs au plat" the waiter shouts
and you ask me to kiss you
with no embarrassment.  "C'est ça Paris" you say.
I still have on my lips
the taste of that honey.
You're still hungry.  You dare your French
and ask "S'il vous plaît, garcon
encore deux oeufs au plat
."
Serena's first steps.
Stava, in the Dolomites.
Vacations at your favorite mountains.
Serena Anderlini, age one
Mushroom picking.
I arrive from Rome flustered.
You take away my breath
and extend our embrace.
In bed, the gift of your body
generous, nude like a soft pink cloud.
In a whisper you tell me:
"Stay, please!  Don't go away!
I want another child."
Now we're alone in the room,
you with the face of thirty years ago.
I would like to touch you,
but my fingers fall into air.
You withdraw and smile:
"No, dear" you say, "I am ashes.
Your lines give me new life.
I am your secret and infinite
will to survive.
I know what it means
to die, desperate, at fifty
The viscera torn apart
by a cruel cancer.
I have experienced the anxieties
of brutal and conscious departures,
of reckoning with eternity,
of the abyss of nothingness.
The furrow that I've left in the world is fleeting.
Some images, a maternal legacy.
We're ashes–impalpable dust.
But one thing is left for us:
Let my bitter destiny buy us
a sweet, serene reunion
in death's nothingness."
"Silvia, rimembri ancora"
Arrivi con la luce del crepuscolo
di quel profumo tuo che mi stordiva.
L'arruffata matassa dei ricordi
Un pic-nic a quattro sulla riva.
che dilata nel cielo il tuo sorriso.
Piccolo ed appartato paradiso
Paris
Poveri ma felici e trasognati.
severo e polveroso, noi affamati
seduti a un tavolo sul marciapiede.
– "
Voila deux oeufs au plat
" – grida il ragazzo
mi chiedi un bacio – "Ca
c'est Paris
" – dici.
l'ho ancora sulle labbra.
Hai ancora fame; osi il tuo francese;
chiedi – "
S'il vous plait, garcon,
encore deux oeufs au plat
" -.
                                          Vacanza tra i tuoi monti preferiti.
                                          Io che arrivo da Roma frastornato
Luca, the new baby
A letto t'offri nuda e generosa.
– "Resta, ti prego! Non lasciarmi
Ti prego! Un altro figlio".
Adesso siamo soli nella stanza,
tu col tuo volto di trent'anni fa,
io che vorrei sfiorarti, ma le dita
– "No, caro" – dici – Io sono cenere.
                                             Sono i tuoi versi a darmi nuova vita.
                                             Sono la tua segreta ed infinita
morire disperata a cinquantanni,
dei distacchi brutali e consapevoli,
Di me resta nel mondo un solco labile,
qualche immagine, un lascito materno.
Siamo cenere, polvere impalpabile.
che serva a noi – amara – la mia sorte
per un sereno e dolce ritrovarci
Did you enjoy the poem?  Searingly honest, right?  Let us know what you think about it!  Yours truly appreciates your attention.  The comments box is open.
We will continue with the biographical chapter.  Posts will appear every Friday at 11:00 AM.  Come back!  And get your copy of 
A Lake for the Heart
right away!
Stay tuned for more wonders.
Namaste,
Serena Anderlini-D'Onofrio, PhD
Gilf Gaia Extraordinaire
University of Puerto Rico, Mayaguez
Follow us in the social media
A Lake for the Heart
http://polyplanet.blogspot.com
Please follow and like us: