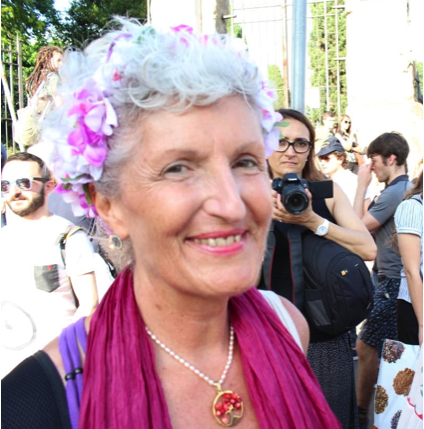 0
About Dr. SerenaGaia
"Dr. SerenaGaia's prophetic books," including Eros (2006) and Gaia (2009), "have inspired readers around the world"
– Dr. Susan M. Block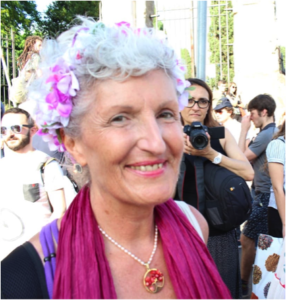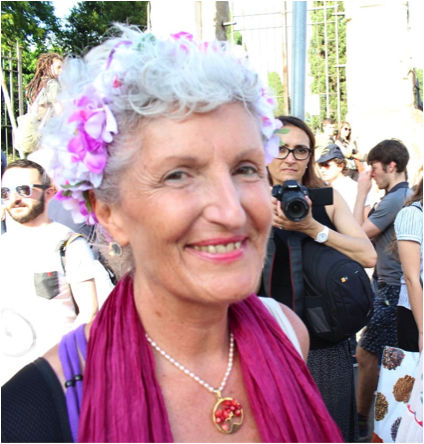 Dr. SerenaGaia, aka Serena Anderlini-D'Onofrio, is an American author and a teacher of #EcosexualLove. She is a leader in the ecosexual movement and an expert in the ecology of love. An award-winning writer, activist, scholar, filmmaker, professor, editor, and cultural theorist, she co-edited the collection Ecosexuality (2015), and co-directed Playa Azul I Love You (2016). 
Dr. SerenaGaia believes that "a world where it is safe to love is a world where it is safe to live," and intends to create that world with her sacred activism.
Dr. SerenaGaia's work channels energies between cultural discourses including health, ecology, and practices of love. She is a graduate of the University of California and erstwhile professor of the University of Puerto Rico. She is also trained in Tantra, Tao, Ecosexual expression, and holistic bodywork. She has facilitated in Hawaii, Sweden, Italy, Puerto Rico and Estonia. She has been involved with the Ecovillage Movement since 2005 and presented at GEN in 2017 and 2018.
---
Read the full biography:
Dr. SerenaGaia (aka Serena Anderlini-D'Onofrio and Serena Anderlini, September 12, 1954) is a cultural theorist whose work brings together the science of Gaia Theory, the discourses of feminism, ecology, and sexuality to propose a new paradigm of love as the ecology of life. Of her work, Dorion Sagan has said that it has the power to "secure for us something that might be called true love" (XII). "Her prophetic books," Dr. Susan M. Block has claimed, "have inspired readers around the world to open up to . . . a multi-disciplinary, poly-textured, tapestry of love" (XV). Dr. SerenaGaia believes that "a world where it is safe to love is a world where it is safe to live," and intends to create that world with her activism.
Dr. SerenaGaia's work as an activist scholar and writer is notable for its success in popularizing the academic disciplines of Women's and LGBT Studies from a humanistic perspective, with the added viewpoint of Italian and ecofeminist theory. A Lambda finalist, she is an advocate of the understanding of bisexuality as a cultural practice that fully brings out the human potential for love. Her work lays the foundation for open and consensual amorous expression to be considered a force that sustains healthy relationships with the partner we all share, the Earth. It provides another window on culture, another perspective on the academic world and the sexual world, as well as on motherhood and daily life. Her books have been referenced as "life changing," and "a turning point in which we as a species face our existence with earth."
Anderlini-D'Onofrio is the author, editor and co-editor of the books Women and Bisexuality: A Global Perspective (2003), Plural Loves: Designs for Bi and Poly Living (2005), Eros: A Journey of Multiple Loves (2006), a memoir and a 2007 Lambda finalist, Gaia and the New Politics of Love (2009), a book of practical theory and a 2010 Nautilus winner, Bisexuality and Queer Theory (2010), with Jonathan Alexander, BiTopia (2011), and Ecosexuality: When Nature Inspires the Arts of Love (2015) with Lindsay Hagamen.
Her articles have been published in numerous journals, including DisClosure, New Cinemas, Rhizomes, Nebula, WSIF, and VIA. She is also the author of The 'Weak' Subject:  On Modernity, Eros, and Women's Playwriting (1998), a study of modern drama and women's authorship.
She has translated and co-translated two books from Italian to English: In Spite of Plato, a book of feminist theory by philosopher Adriana Cavarero (1995) with Aine O'Healy, and Luigi Anderlini's poetry collection, A Lake for the Heart/Il lago del cuore (2005).
Anderlini-D'Onofrio has spoken about polyamory on Italian public television, and in 2007 she gave keynote addresses at the Loving More and the World Polyamory Association conferences.
More recently, Anderlini-D'Onofrio has adopted the sacred name of Dr. SerenaGaia. She has been at the helm of the ecosexual movement, with various keynotes, including Ecosex Symposium in Portland (2012) and the book Ecosexuality: When Nature Inspires the Arts of Love (2015), the first collection on this topic edited with Lindsay Hagamen.  She has learned that "love is the ecology of life." She is at work on new titles, including a study of Italian cinema from an ecosexual perspective, and a series of dialogs of the ecology of love. She is the convenor of Practices of Ecosexuality: A Symposium.  News and project updates are available at www.serenagaia.org, also www.ecosexbook.org
Links:
Amazon.com Author's page: https://www.amazon.com/Serena-Anderlini-DOnofrio/e/B001JS1VKA/ref=sr_ntt_srch_lnk_2?qid=1477282388&sr=8-2
Facebook Profile: https://www.facebook.com/serena.anderlini
Academia.edu Profile https://uprm.academia.edu/SerenaAnderlini
ResearchGate: https://www.researchgate.net/profile/Serena_Anderlini
LinkedIn: https://www.linkedin.com/in/serena-anderlini-8962038?trk=nav_responsive_tab_profile
Lectures 1-9: A brief history of the Earth and all its people, 1500-Present https://www.youtube.com/playlist?list=PLSR-dwq0vlhyHMO2A-W1EVSMuAy8wyLGe
Contact:  serena.anderlini@gmail.com