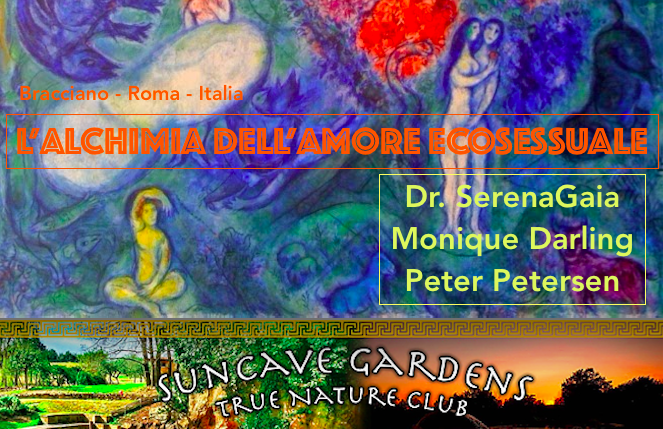 0
L'alchimia dell' amore ecosessuale – Weekend intensivo – Programma
Benvenuti/e all' Alchimia dell'amore ecosessuale. 
Questo weekend intensivo è disegnato per chi desidera il coraggio di amare senza paure e senza riserve.
Il fine settimana introduttivo vi permetterà di familiarizzarvi con le promesse del corso.  Unitevi a noi, ai Giardini delle grotte del Sole, per questa prima edizione, 29 giugno-1 luglio, 2018.
Diventa un alchimista dell'amore ecosessuale:
L

iberati della paura di ammalarti per amore

Liberati della paura di essere rifuitato/a

Liberati della paura di farti consumare dalla gelosia

Liberati della paura del piacere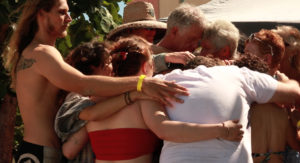 L'alchimia dell'amore ecosessuale è composta da una sinergia di vari elementi.  Questi elementi, quando sono combinati, permettono di praticare l'amore come un'arte, e di generare tutto l'amore che una persona possa desiderare.
Gli elementi sono i seguenti:
Il Tao, una filosofia pratica orientale che permette di armonizzare gli elementi del nostro ecosistema personale, trattando gli organi e le altre parti di esso come dei membri di una famiglia interna ed espansa, che funzionano bene quando vanno d'accordo.
Il tantra,

un'altra filosofia pratica orientale che unisce l'espressione amorosa con aspetti della sacralità, permettendo connessioni energetiche ed auriche fra persone desiderose di amarsi con rispetto e reverenza per le rispettive energie vitali.

L'inclusività amorosa,

che permette di espandere la nostra capacità di amare in un orizzonte più ampio, al di là della normatività monogamica.

La fluidità sessuale,

che permette di percepire ed apprezzare le energie amorose a prescindere dal genere della persona da cui emanano.
Il fine settimana vi permetterà di assaporare e praticare queste libertà, per poi magari andare più a fondo in seguito se lo desiderate.  Il programma introduttivo è in sé completo e capacitante.
Il programma inizia alle 17 di venerdì.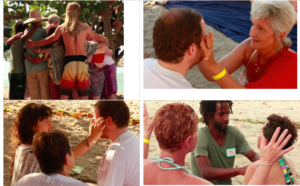 VENERDÌ, 17-20
Presentarsi.  Ci sarà una introduzione dove i e le partecipanti saranno invitati/e a presentarsi e a condividere ciò che li motiva a partecipare.
Attività
Tao: scrollare, aprire i canali, radicamento, battitura

Tantra: danza con contatto
Antipasti, bibite, succhi, acqua
Teoria.  Introduzione all'Alchimia dell'amore ecosessuale
Temi: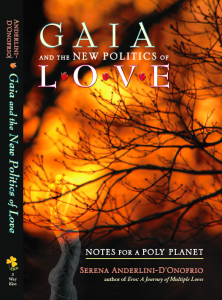 Il movimento ecosessuale

La terra come amante, la partner che tutti/e condividiamo

Riconnettiamo il nostro metabolismo a quello della terra

Conosciamo ed amiamo il nostro ecosistema personale

Permettiamogli di emanare amore ad altri/e

Incontriamo le altre persone come "metamori"

L'espressione sessuale e amorosa: arte di amare e guarire

Anche in natura, le piante e le loro ammirate parti genitali

L'amore ecosessuale: che si spinge al di là del genere, del numero, della razza, dell'orientamento sessuale, delle origini, dell'etnicità, dell'età, della specie, e perfino del regno biologico, per abbracciare tutte le forme di vita come partner con uguali diritti.

Gaia, la simbiosi, l'amore e l'ecosessualità
Promessa di piena presenza e consapevolezza fino alla cerimonia dello sposalizio.
Pratiche Tao: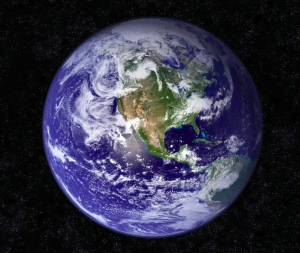 Esercizio del sorriso interiore

Esercizio della ruota dell'acqua

Esercizio della respirazione al contrario
Pratiche Tantra:
Esercizio dell'inclusione
                      Due persone parlano. Una terza si avvicina.  Aprire e dare il benvenuto.  Scusarsi e chiedere privacy.
                           No.  No con ridirezione.  Si con direzione, tocco guidato, mudra.
Abbraccio di gruppo all'ossitocina
Condividere l'esperienza, discutere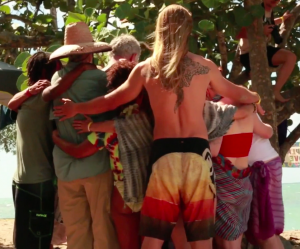 20-21: Cena vegetariana con opzioni vegane
21-22:
Danza contatto
Abbraccio di gruppo all'ossitocina
Proiezione film corto Playa Azul I Love You
SABATO, mattina
8:30-9:30: Prima Colazione
9:30-13:30: Iniziamo la deprogrammazione per il fine settimana
Facciamo dell'amore l'ecologia della nostra vita
Consideriamo tre componenti dell'amore ecosessuale: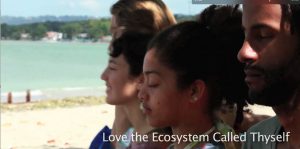 Conoscere ed amare se stessi

Conoscere ed amare il pianeta che ci ospita: la terra

Conoscere ed amare coloro che condividono questo pianeta con noi: l'umanità
Pratiche dell'amore ecosessuale:
10:00-11:30 Workshop # 1: Conosci e ama l'ecosistema chiamato te stesso/a
11:30-13:00 Workshop # 2: Conosci e ama l'amante che tutti/e condividiamo: la Terra
13:30-14:30: Pranzo vegetariano con opzioni vegane
SABATO, pomeriggio
15:00-17:00: Pausa per meditazione, relax
17:00-18:30 Workshop # 3: Conosci e ama coloro che condividono questa partner con te: il genere umano
18:30-19:00: Pausa
19:30-20: Celebriamo l'amore ecosessuale.  Sposalizio collettivo all'ecosistema ospitante.
* Per una descrizione piu dettagliata dei workshop e di questo rituale, clicca qui. 
20-21: Cena vegetariana con opzioni vegane
DOMENICA, mattina
8:30-9:30: Prima Colazione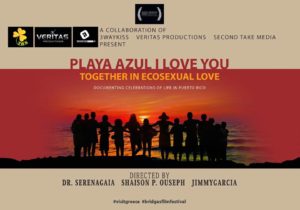 10-11:30: Opzioni per praticare
Esercizio dell'emittente di piacere

Esercizio dell'abbraccio agli alberi

Esercizio delle coccole

Proiezione film corto Playa Azul I Love You.
11:30-12:30: Condivisione, discussione: Come integrate l'apprendimento alla vita regolare?
12:30-13: Circolo di chiusura
13-14:30: Pranzo vegetariano con opzione vegana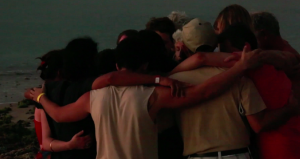 Opzione di rimanere il pomeriggio con tempo libero per praticare
Opzione di cena e pernottamento (non inclusi)
Nota: I e le parte cipanti avranno l'opzione di arrivare la mattina di venerdì, con pranzo (non incluso), e anche la sera di giovedì (con cena e pernottamento, non inclusi).
Visitate la struttura, Naturist Suncave Gardens, con la piscina biolago e l

a magia delle grotte etrusche.  (A 30 minuti di macchina dall'aereoporto Leonardo da Vinci.)
MEET YOUR FACILITATORS: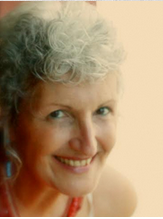 Dr. SerenaGaia, aka Serena Anderlini-D'Onofrio, is a teacher of #EcosexualLove.  She is leader in the ecosexual movement and an expert in the ecology of love.  A teacher, writer, activist, scholar, filmmaker, and cultural theorist, she co-edited the collection Ecosexuality (2015), and co-directed Playa Azul I Love You (2016).  "Her prophetic books," including Eros (2006) and Gaia (2009), "have inspired readers around the world," Dr. Susan M. Block has said.
Dr. SerenaGaia believes that "a world where it is safe to love is a world where it is safe to live," and intends to create that world with her sacred activism.  www.serenagaia.org
Monique Darling, Author of Beyond Cuddle Party and workshop facilitator extraordinaire, was born on this planet with the unique gifts and soul calling to help you remember how magnificent you truly are! Messages from your ancestors, your spirit guides, your body, nature, your soul, are all called upon and utilized so that you walk away knowing how deeply the cosmos loves you for YOU, exactly as you are, so you can begin to love and accept yourself too.
YOU, you are the gift!
.
Monique has led nearly 2000 workshops in the past 8 years. She has taught at colleges across the US including Yale. She has been featured on TLC and The Dr's as well as various radio shows, podcasts and magazines across the globe. She specializes in helping others reclaim their power and natural sensuality by transmuting fear and repression into courage, self-love and freedom. Her primary purpose is helping folks bring out their vulnerability, energetic embodiment and fearless relating. Learn more about Monique by going to www.juicyenlightenment.com or track her whereabouts at www.whereintheworldismoniquedarling.com
Peter Petersen has been teaching qigong for 17 years and has been a certified massage therapist for the last 15. Peter has facilitated in health clubs, hospitals, retirement villas, and several different wellness/spa resorts in Mexico and the United States, such as Rancho La Puerta, Mayacamas Ranch, and Present Moment Retreat. Peter has also been touring and teaching with Monique Darling for the last 3 years, honing his skills in facilitating dance, meditation, and Tantra Peter is also a personal wellness coach. This Qigong practice helps people ground themselves into their "now" to increase their present moment awareness of their behaviors, and find simple solutions to problematic habits such as: eating, moving, negative thinking, and sleeping. The result of this tool box of healthy information is that clients become their own health advocate and regain a sense of stability, peace, and well-being into their everyday lives.
# # # # # # #
Can we answer any questions?  Please do not hesitate to contact us.  We look forward to serving you in your journey of #EcosexualLove.  Enjoy!
aka Serena Anderlini-D'Onofrio, PhD
Erstwhile Professor of Humanities and Cinema at UPRM
Convenor of Practices of Ecosexuality: A Symposium
Fellow at the Humanities Institute, University of Connecticut, Storrs (2012-13)
Project: "Amorous Visions: Ecosexual Perspectives on Italian Cinema"