0
CHIE E "DR. SERENAGAIA"
"I libri profetici della Dott. SerenaGaia," inclusi Eros (2006) e Gaia (2009), "hanno ispirato lettori e lettrici intorno al mondo."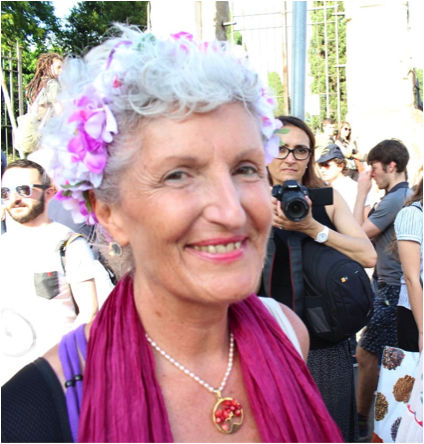 Dr. SerenaGaia, alias Serena Anderlini-D'Onofrio, è una scrittrice americana e una maestra dell'#AmoreEcosessuale. È una leader del movimento ecosessuale e un'esperta nell'ecologia dell'amore. È una scrittrice che ha vinto premi, un'attivista, una studiosa, cineasta, professoressa, curatrice, e teorica della cultura. Ha curato l'edizione di Ecosexuality (2015), e la regia di Playa Azul I Love You (2016). È cresciuta a Roma e si è trasferita in California per compiere gli studi dottorali.
"Dr. SerenaGaia" crede che "un mondo dove non è pericoloso amare è un mondo dove non è pericoloso vivere," ed intende creare questo mondo con il suo attivismo sacro.
L'opera di "Dr. SerenaGaia" canalizza energie fra vari discorsi culturali, inclusi quelli della salute, dell'ecologia e delle pratiche amorose. È Dottore in Ricerca dell'Università della California ed e stata Professore Ordinario dell'Università del Porto Rico. Si è anche formata nel Tantra, Tao, espressione ecosessuale, e massaggio olistico. Ha facilitato in Hawaii, Svezia, Italia, Porto Rico, ed Estonia. Ha partecipato al movimento degli ecovillaggi dal 2005, ed è stata presente a GEN nel 2017 e 2018.
Leggi la biografia completa:
"Dr. SerenaGaia" (alias Serena Anderlini-D'Onofrio e Serena Anderlini, 12 settembre 1954) è una teorica della cultura il cui lavoro mette insieme la scienza della teoria di Gaia, i discorsi del femminismo, dell'ecologia, e della sessualità per proporre un nuovo paradigma dell'amore come ecologia della vita. Della sua opera Dorion Sagan ha detto che ha il potere di "assicurarci qualcosa che potrebbe forse chiamarsi vero amore" (XII). "I suoi libri profetici" ha dichiarato la Dott. Susan M. Block, "hanno ispirato lettori e lettrici intorno al mondo ad aprirsi verso . . . un arazzo dell'amore dalle consistenze e discipline molteplici" (XV). La Dott. SerenaGaia crede che "un mondo in cui non è pericoloso amare è un mondo in cui non è pericoloso vivere," ed intende creare questo mondo con il suo attivismo sacro.
Come studiosa attivista, l'opera di "Dr. SerenaGaia" è notevole per il suo successo nel popolarizzare le discipline degli Studi sulle Donne e sulle comunità LGBT da un punto di vista umanistico, con in più le prospettive della teoria italiana ed ecofemminista. Finalista del premio Lambda, ella sostiene che la bisessualità va intesa come pratica culturale che porta fuori il pieno potenziale umano per l'amore. La sua opera getta le fondamenta affinché l'espressione amorosa aperta e consensuale sia considerata una forza che sostiene relazioni salutari anche con la compagna che tutti e tutte condividiamo: la Terra. La sua opera offre un'altra finestra sulla cultura, un'altra prospettiva sul mondo accademico e il mondo della sessualità, così come sulla maternità e la vita quotidiana. Si fa riferimento alle sue opere come quelle che "cambiano la vita" e rappresentano "un punto di svolta dove noi come specie siamo di fronte alla nostra esistenza sulla terra."
Anderlini-D'Onofrio è autrice, curatrice, e co-curatrice dei volumi Women and Bisexuality: A Global Perspective (2003), Plural Loves: Designs for Bi and Poly Living (2005), Eros: A Journey of Multiple Loves (2006), un libro di memorie finalista al Premio Lambda del 2007, Gaia and the New Politics of Love (2009) un libro di teoria pratica e finalista al Nautilus del 2010, Bisexuality and Queer Theory (2010) con Jonathan Alexander, BiTopia (2011), e Ecosexuality: When Nature Inspires he Arts of Love (2015) con Lindsay Hagamen.
I suoi articoli sono stati pubblicati su numerose riviste scientifiche, incluse DisClosure, New Cinemas, Rhizomes, Nebula, WISF, e Via. È anche autrice di The 'Weak' Subject: On Modernity, Eros, and Women's Playwriting (1998), uno studio del dramma moderno e della scrittura femminile.
Ha tradotto e co-tradotto due libri dall'italiano all'inglese: In Spite of Plato, un libro di teoria femminista della filosofa Adriana Cavarero (1995), con Aine O'Healy, e la collezione di poesie di Luigi Anderlini, A Lake for the Heart/Il Lago del Cuore (2005).
Anderlini-D'Onofrio ha parlato del poliamore alla televisione italiana, e nel 2007 ha dato le sessioni plenarie alle convergenze annuali di Loving More e World Polyamory Association.
Più recentemente, Anderlini-D'Onofrio ha adottato il nome sacro di Dr. SerenaGaia. È stata alla guida del movimento ecosessuale, con varie plenarie, come al Simposio sull'Ecosex di Portland (2012), e con il libro Ecosexuality: When Nature Inspires the Arts of Love (2015), la prima collezione su questo tema, curata con Lindsay Hagamen. Ha imparato che "l'amore e l'ecologia della vita." Sta lavorando a nuovi titoli, inclusi uno studio del cinema italiano dalla prospettiva ecosessuale, e una serie di dialoghi sull'ecologia dell'amore. È la convocatrice di Practices of Ecosexuality: A Symposium. I suoi nuovi progetti e aggiornamenti sono disponibili presso www.serenagaia.org e www.ecosexbook.org
Links:
Amazon.com Author's page: https://www.amazon.com/Serena-Anderlini-DOnofrio/e/B001JS1VKA/ref=sr_ntt_srch_lnk_2?qid=1477282388&sr=8-2
Facebook Profile: https://www.facebook.com/serena.anderlini
Academia.edu Profile https://uprm.academia.edu/SerenaAnderlini
ResearchGate: https://www.researchgate.net/profile/Serena_Anderlini
LinkedIn: https://www.linkedin.com/in/serena-anderlini-8962038?trk=nav_responsive_tab_profile
Lectures 1-9: A brief history of the Earth and all its people, 1500-Present https://www.youtube.com/playlist?list=PLSR-dwq0vlhyHMO2A-W1EVSMuAy8wyLGe
Contact:  serena.anderlini@gmail.com