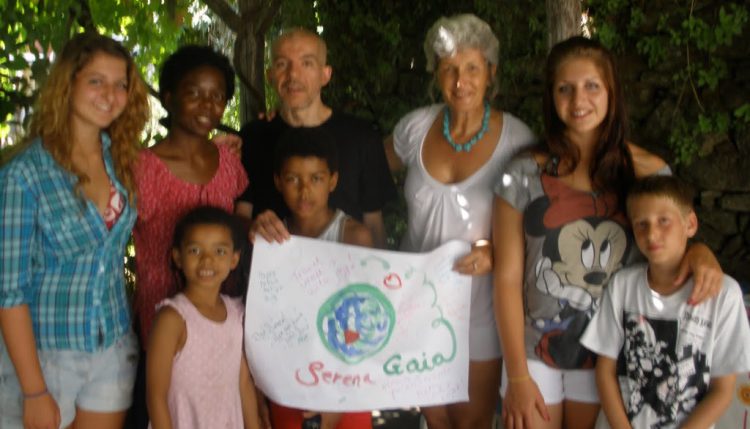 Finally, GAIA on Kindle: Start reading in less than a minute! Ecosexual Gift if you buy on Sept 26th!
We at

3WayKiss

wish to sincerely thank you for your attention to this.  We are delighted to offer

Gaia

on

Kindle

, the recently released digital edition of

Gaia and the New Politics of Love

. 
Regarded as an avatar of ecosexual theory, this controversial book is a
Silver Winner
in
Cosmology
and
New Science
for the
2010 Nautilus Awards
.  Now you can start
reading it in less than a minute
, and
without the waste of a single twig! 
If that weren't ecosexual enough, you can also get a fabulous
Gift
when you make your purchase on
September 26th
.  This Sunday has been announced world wide as the
push-up
date to bring the title up into the
digital best-seller list. 
When people like you decide what a best seller looks, feels, reads like, we can transform the publishing industry into one that really reflects the creative intelligence of readers.  When you decide to participate in this push, you also create better book-contract opportunities for writers whose creative intelligence resonates with your ideas, ideals. This book has been described both as a 'disgrace' and as a 'masterpiece.'  It has made waves of differing opinions in its own niche communities.  The author has issued a 'clarification statement' in response to these.  Don't you wish to know what this is all about immediately?  Well . . . . yes, you do, but please mark your calendar for the 26th and on that day click on the  book-cover image.
We at 3WayKiss wish to thank you from a deep place in our heart.  We are a non-profit based in Puerto Rico devoted to the mission of "educating the public world wide about the arts of loving and their infinite forms of expression that our species make piece with our gracious hostess, the third planet Gaia."  We could not be more thrilled to reach out with this special offer to you!
If you are not familiar with digital book reading, this is a good time to start.  Download the free software Kindle for PC, or another free software for mobile devices.  What a great, 'right livelihood' way to read.  No more paper, no more trees!  No more storing, dusting, shipping, logging around those heavy, expensive print books.  All the intensity, complexity, reliability, in-depth knowledge a book can offer, for the feather weight of a digital file stored on your hard disk!
Teaching Gaia in Greece
With Regina Reinhardt and Robyn Ochs in London for BiReCon
Annie Sprinkle – Wedding to the Moon
What a relief for those of us aspiring to a light footprint.  And how consonant with the whole idea of Gaia as the basis for a new, ecosexual politics of love! Start building your digital library on the 26th!

The author's summer has been fabulous with new travels and experiences, including seminars on The Wisdom of Love in the San Francisco Bay Area with such avatars of Polyamory as Deborah Taj Anapol and Dossie Easton; teaching compersion, polyamory, and Gaia theory in Washington State and Greece; coaching participants ready to design the amorous life of their dreams; visiting oracle shrines in Greece and naturist villages in France, and keynoting at BiReCon the Bisexuality Research Conference in England. 
Now she's ready for more, with participation in Annie and Beth's Wedding to the Moon ecosexual performance and symposium in LA, October 23-24, with workshops and readings planned for the 16 and the 19, more workshops on Managing Jealousy in November in Puerto Rico, and more events to be announced.

As a reward for participating in the push-up day for Gaia on Kindle, you get a

fabulous ecosexual Gift

:  Bring your proof of purchase to any of her events and you'll get a discount of

up to $ 20

on the door charge. That's more than double the purchase price for Gaia on Kindle!
More details on events will be announced soon.  Stay tuned for the Newsletter with Calendar of Events. You can also follow us on our blog,
PolyPlanetGAIA
, and learn a lot more about Gaia and ecosexual theories, practices, possibilities.  Become a follower
here
. You can follow us on
Facebook
, become a
fan of Gaia
here
,or simply friend Serena Anderlini
With deep appreciation for your interest and business, we at 3WayKiss remain yours truly, in devotion and ecosexual friendship.
Namaste,
Serena Anderlini @ 3WayKiss
author of Gaia and the New Politics of Love, a Silver Winner for Cosmology and New Science for the 2010 Nautilus Book Awards, and many other fabulous books
Professor of Humanities at the University of Puerto Rico, Mayaguez
http://polyplanet.blogspot.com
Please follow and like us: