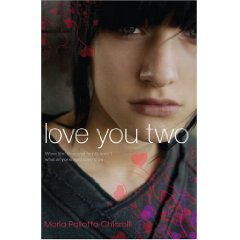 Love You Two, by Maria Pallotta-Chiarolli – Book Announcement
Set in today's multi-cultural, multi-sexual Australia,
Love You Two
is Maria Pallotta-Chiarolli's first novel, about a young woman's coming-of-age when life, love and family aren't what anyone said they'd be.
When Pina was a little girl, her mum used to sign cards and notes to her and her younger brother Leo with the crazy line, 'Love you t(w)oo.' It was supposed to make them feel like their mum had heaps of love for both of them, that she loved them equally. Well, that's okay when you love all your kids. Actually, that's the way it should be. Then a chance glimpse at an email unravels what Pina thought she knew about life and love. What happens when your Mum loves your dad as much as ever, but is also in love with someone else! And what do you do when you run away to stay with your uncle only to be thrown into another, unexpected, world where there's a lot more to sexuality than gay or straight!
Pina's friends think she's lucky. How many families get along the way hers does – how many parents are as free-spirited and happy as hers? Pina's always loved her mum for fighting the 'old wog ways' of her grandparents, and making sure Pina has an easier time growing up. But can her family and her friendships survive what she has discovered? And what does it all mean for Pina's own life?
Two siblings, two boys, two cities, three generations, four friends:
how many versions of love?
Love You Two
was inspired by Maria Pallotta-Chiarolli's fifteen years of community work and academic research and publishing in sexual, family and cultural diversity in Australia, with an emphasis on adults and adolescents, and parents and their children. She says, 'There were lots of people I'd met, events I'd witnessed, that just hung around in my head and heart begging to be taken out, aired and affirmed. I wanted to write a comforting, funny, challenging and realistic book for young people and the adults in their lives who love "differently", whose families are misunderstood, misrepresented, and hidden, so that they could find themselves and know that what matters is how people love, not who they love.'
http://polyplanet.blogspot.com
Please follow and like us: