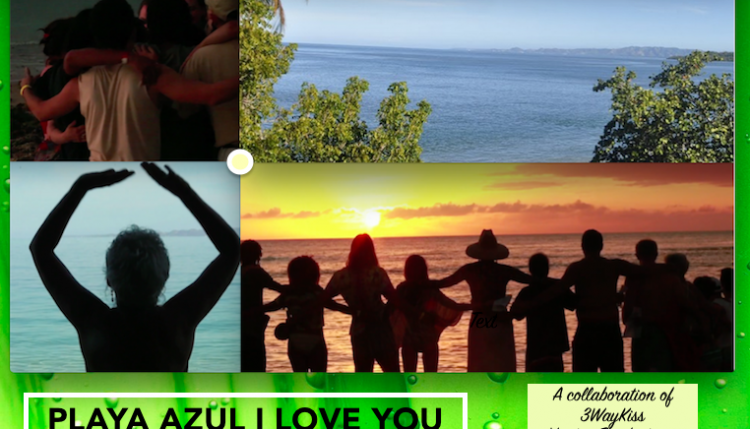 Playa Azul I Love You: Together in Ecosexual Love – Film/Documentary
The film
This 30-minute documentary is the story of a 16-year love affair with a beach that culminates in a Plural Wedding of Ecosexual Love.
Wh
at is an ecosystem? When we practice Ecosexual Love, an ecosystem is a companion, a partner, a lover: much more than an object of scientific study.  Falling in love with an ecosystem–recognizing the love and health it can bring to people's lives–is what this film is about. Interpreting the Earth as a lover is the shift in metaphors that has galvanized the Ecosexual Movement. We need to love the Earth we make love on, so as to mark a common path for the sex-positive movement and the global ecology movement. For an adult, responsible behavior of humankind toward nature.
This movement manifests locally as well.  A liminal space for dwellers and lovers, Playa Azul is a beach located on the south side of the shore of Western Puerto Rico.  It is being stewarded with love by a team of dwellers who love to share it with nature lovers. It is now a very hospitable to diverse lovers and conducive of inclusive forms of amorous behavior.
We the co-directors made this film to celebrate the beauty of this ecosystem and the spontaneous behavior it inspires in people when living close to nature and the Caribbean shore.  We extended our invitation to a Plural Wedding of Ecosexual Love, and a community came together for this inclus
ive and fluid symbolic ceremony. When participants married the beach, a radical form of "marriage equality" was practiced. Everyone became a "spouse" to the ecosystem, which acquired much "spice" by effect of the sacred wedding to this particular piece of Lover Earth.
When we recognize the Earth as the partner we all share, we become "metamours" to one another, namely people who consciously share a beloved. This is one of the powers of practicing Ecosexual Love.
The film documents this coming together and its transformative effects for the community and the beach itself.
Playa Azul I Love You is a coproduction of 3WayKiss, Veritas Productions, and SecondTake Media.
The Directors
Dr. Serena Gaia
Writer, activist, scholar, filmmaker, cultural theorist, and professor of humanities at the University of Puerto Rico, Mayaguez, Serena Anderlini-D'Onofrio believes that "a world where it is safe to love is a world where it is safe to live." Anderlini-D'Onofrio is the author, editor and co-editor of the books Women and Bisexuality: A Global Perspective (2003), Plural Loves: Designs for Bi and Poly Living (2005), Eros: A Journey of Multiple Loves (2006), a memoir and a 2007 Lambda finalist, Bisexuality and Queer Theory (2010), with Jonathan Alexander, and BiTopia (2011). She is also the author of The 'Weak' Subject: On Modernity, Eros, and Women's Playwriting (1998), a study of modern drama and women's authorship.
Anderlini-D'Onofrio has spoken about polyamory on Italian public television, and she gave the keynote address at the 2007 Loving More and World Polyamory Association conferences.
More recently, Anderlini-D'Onofrio has adopted the sacred name of Dr. Serena Gaia. She has been at the helm of the ecosexual movement, with various keynotes and the book Ecosexuality: When Nature Inspires the Arts of Love (2015), the first collection on this topic edited with Lindsay Hagamen. She has learned that "love is the ecology of life." She is at work on new titles, including a study of Italian cinema from an ecosexual perspective, and a series of dialogs of the ecology of love. She is the convenor of Practices of Ecosexuality: A Symposium. News and project updates are available at www.serenagaia.org, also www.ecosexbook.com
Links:
Amazon.com Author's page: https://www.amazon.com/Serena-Anderlini-DOnofrio/e/B001JS1VKA/ref=sr_ntt_srch_lnk_2?qid=1477282388&sr=8-2
Facebook Profile: https://www.facebook.com/serena.anderlini
Academia.edu Profile https://uprm.academia.edu/SerenaAnderlini
ResearchGate: https://www.researchgate.net/profile/Serena_Anderlini
LinkedIn: https://www.linkedin.com/in/serena-anderlini-8962038?trk=nav_responsive_tab_profile
Shaison P. Ouseph
Shaison P. Ouseph is an internationally acclaimed filmmaker, editor, and cameraman, with credits ranging from director of photography to art director on many documentaries and independent feature projects.  His public service campaigns promoting literacy, the empowerment of women, and against child exploitation have won him many national and international accolades.  Esteemed organizations such as the United National, the International Labour Organization, the US Embassy, have bestowed him with awards and certificates for his work on social issues.  His work as a director has been well recognized and appreciated.
Jimmy Garcia
Jimmy Garcia is a video-maker and a student at UPRM.  He is working on several videos and is the founder of SecondTake Media.
Director Statement
Dr. Serena Gaia:  "We did Playa Azul I Love You to practice #EcosexualLove. We came together to marry the partner we all share, the Earth, and become "spice" for one of her beautiful ecosystems, Playa Azul. We learned to consider each other "metamours." And we model the world where 'it is safe to live because it is safe to love.'  I am especially grateful to all those who initiated, believed in, participated, and contributed to completing this project."
Playa Azul I Love You will be screened at the Symposium Practices of Ecosexuality and Sex-Positive Education, February 3, 2017, at UPRM.
The film has been uploaded as a project in Film Freeway will be submitted to appropriate Film Festivals.  It will be distributed by CreateSpace and Amazon.com
Contact us if you'd like to screen the film or ask for more information.
Thank you!
aka Serena Anderlini-D'Onofrio, PhD
Professor of Humanities and Cinema
Convenor of Practices of Ecosexuality: A Symposium
Fellow at the Humanities Institute, University of Connecticut, Storrs (2012-13)
Project: "Amorous Visions: Ecosexual Perspectives on Italian Cinema"
Please follow and like us: