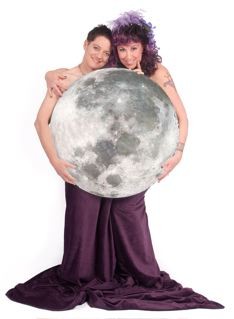 PRESS RELEASE – SF 6/17-19: ECOSEXUALS UNITE FOR AN ECOSEX SYMPOSIUM & ART EXHIBIT
PRESS RELEASE
MAY 22, 2011
Contact: Center for Sex and Culture (415) 902-2071
Serena Anderlini: serena.anderlini@gmail.com
 iphone: (787) 538 1680
Elizabeth Stephens: bethstephens@me.com
San Francisco, Ca.
ECOSEXUALS UNITE FOR AN ECOSEX SYMPOSIUM & ART EXHIBIT
What's an ecosexual? Why are skinny-dipping, tree-hugging and mysophila so pleasurable? Where is the e-spot? Can the budding ecosexual movement help save the world? Who are the ecosexuals? These are some of the questions that will be discussed at the Ecosex Symposium II- a public forum where art meets theory meets practice meets activistism.
The organizers of these events are Annie Sprinkle, Ph.D., a feminist-porn-star and artist, turned "sexecologist," and Elizabeth Stephens, a UCSC art professor and environmental activist. The two women explain, "As a strategy to create a more mutual and sustainable relationship with our abused and exploited planet, we are changing the metaphor from the Earth as mother, to Earth as lover."
Artists and sybaritic cougars, Sprinkle and Stephens kick off the weekend with their "Ecosex Manifesto" an art exhibit with new collages, their ecosex wedding videos and ephemera, ecosexual photographs, and a wall text with their manifesto. Stephens and Sprinkle create art that aims to inspire more love and appreciation for the Earth and environment. The art exhibit and symposium are sponsored by Femina Potens Gallery and all events will happen at the new Center For Sex & Culture at 1349 Mission Street. The artists got a cultural equity grant from the San Francisco Arts Commission to help make it all possible.
Ecosexual theorist and author of seminal text, Gaia and the New Politics of Love, Serena Anderlini, Ph.D. is travelling from University of Puerto Rico to present the keynote, What is Ecosexual Love? A Guide to the Arts and Joys of Amorous Inclusiveness. In this production by 3WayKiss, she'll impersonate a GILF. Good Vibration's resident sexologist, Carol Queen, Ph.D., will be discussing ecorotic issues in the sex toy industry and The Sexology of Ecosexuality. Dr. Robert Lawrence, Ph.D. will cover ecosex fetishes. Also presenting are Madison Young, an award winning queer porn movie director and artist who will cover the Greening of the Sex Industry. Artist Tania Hammidi will do a dance piece about conflict, genocide and olive trees. There will be a special ecosexi-love-a-licious vegan raw lunch by Becka Shertzer's Brazennectar and Mister Cream. Other presenters are artist musicians Dylan Bolles & Sasha Hom, yogi and academic Amy Champ, and the legendary porn actress Dr. Sharon Mitchell who will talk about the sensuality of gardening. Author of the book Ecosex, Stephanie Iris Weiss will be skyping in from New York for a panel. Erospirit Institute director, Joseph Kramer, Ph.D. will expound on the spiritual aspects of ecosexuality. Other speakers will present on many more aspects of this budding new sexual movement. There will also be an open forum for symposium participants to share their work and thoughts.
Although Stephens and Sprinkle use humor in their work, they are very serious about engaging ecosex as an environmental activist strategy. They aim to, "make the environmental movement a little more sexy, fun and diverse." Additionally, they'd like to see an "E" added to GLBTQI.
Friday, June 17
7:00-9:30 ECOSEX MANIFESTO ART EXHIBIT OPENING &
ECOSEX SYMPOSIUM RECEPTION (Free)
Saturday, June 18
Sunday, June 19 10:00-1:30
ECOSEX SYMPOSIUM 11 ($35. No one turned away for lack of funds.)
10:30 AM to 10:45 PM
ECOSEX MANIFESTO ART EXHIBIT
The Ecosex Manifesto Art Exhibit by Elizabeth Stephens & Annie Sprinkle will be open for public viewing through July 24th.
Gallery Days and Hours: Thursdays and Fridays: 6/23 + 6/24 2:00-5:00 PM, 6/30+ 7/1 2:00-5:00 PM, 7/21 + 7/22 2:00-5:00 PM Or by appointment with the Center for Sex & Culture.
RELATED EVENTS
June 16, 8:00 Femina Poten's ECOSEXUAL QUEER PORN NIGHT-At ATA
June 19 5:00-7:00 DIRTSTAR PERFORMANCES at the Tenderloin National Forest/Luggage Store
What is 3WayKiss?  We're a non-profit dedicated to educating the public about the arts of loving and their infinite forms of expression, especially those that are playful, joyful, healthy, open, sustainable, and inclusive.  We intend to foster a public climate where the arts of loving are seen as a form of the arts of healing, and the global effort to create an emotionally sustainable planet where trusting others and sharing resources is seen as the source of abundance and peace in the world.
http://polyplanet.blogspot.com
Please follow and like us: