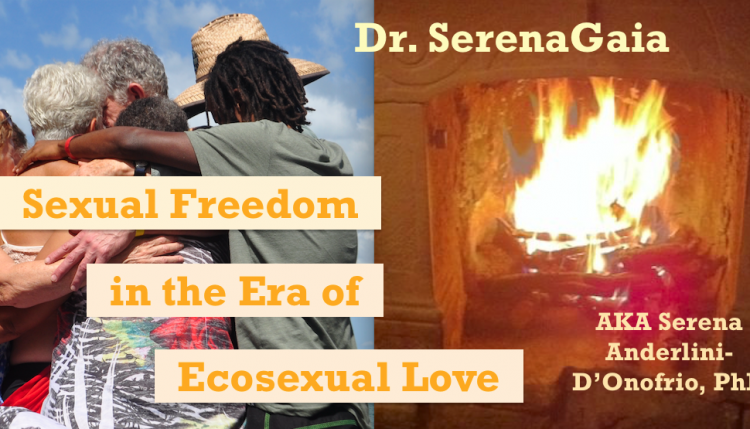 Sexual Freedom in the Age of Ecosexual Love
Sexual Freedom in the Era of Ecosexual Love
The new sexual freedom we need to invent is the freedom of Ecosexual Love. This freedom is predicated on a shift from fear to love. Sex-positive education is key. And it needs to understand itself as something wider, more powerful, more planetary, and more significant than the fears of infection it was born to assuage. Sex-positive education is a wonderful way to bring joy to people as they reinvent the arts of love in the aura of the divine feminine and its infinite capacity for pleasure. It's a great way to invite men and people of all genders to embrace the divine feminine within as their Kundalini awakens. In the Era of Ecosexual Love, sexual freedom will also be a way to honor long-term HIV + survivors as heroes of self-love. Allopathic and holistic practices of health manifest love in different ways. These perspectives can unite people today in a process of societal healing that brings the human family back to love. The ecosexual movement is an inspiration to practice sexual freedom as we share in natural, fluid, and inclusive practices of ecosexual love.
I practice safer sex and recommend that it be practiced to the extent that is required to ensure full consent from all those involved. I also educate people in my circles about barriers, risks, and the exchange of fluids. I include awareness of multiple theories of sexual health and reports about long-term survivors of STIs. But not as an excuse to overlook risks. Rather, as a way to instill hope in a future where people may enjoy sexual freedom more fully some day. I am not a "victim" of conspiratorial thinking. I am a responsible amorous player with a wider perspective of ecosexual health. I trust in the love of the partner we all share: the Earth. And I believe in empowering amorous players to be in charge of their own health in natural, intuitive, holistic, and time-tested ways. I have been successful in exporting the health and beauty of ecosexual practices of love to communities in the Hispanic world. In most areas of the world, people have their own time-tested medicine styles and practices of health. Their participation in the digital sphere is limited, yet they do long for sex-positive education. For example, in the Hispanic world, Conquistador behavior has produced machismo, and many women's groins still clench in fear. Wherever I bring my wisdom, I invite respect for dissent and am excited about the infinite and abundant ways to practice ecosexual love that are virtually risk free. Expressing appreciation for dissent is compassionate and inclusive. This inclusiveness empowers those who have overcome fear with self-love and is a great contribution to sexual freedom and the science of love.
If we want sex-positive education to be relevant, to expand, to reach out to world-wide communities, we need to model respect for a diversity of perspectives and points of view on what health is. We need understanding for a wider spectrum of modalities of health that people can access from their communities. We need good listening for people options to be communicators and participants in the digital sphere. And we need compassion for people and the ability to embrace them where they are at in their evolution.
The world is on the verge of an Ecosexual ReLOVEution and this ReLOVeution is a way to reinvent the freedom of ecosexual love.
Dr. SerenaGaia – aka Serena Anderlini-D'Onofrio
Cabo Rojo, Puerto Rico, June 23, 2016
@@@@@@
Biographical Note
Dr. SerenaGaia is the sacred name of Serena Anderlini-D'Onofrio, PhD, editor and author of, most recently, Ecosexuality: When Nature Inspires the Arts of Love. Dr. SerenaGaia believes that "love is the ecology of life." Her prophetic books, including Gaia (2009) and Eros (2006) have inspired readers around the world to open up to the glories of our amorous life on "wide-bosomed Gaia." Artfully weaving together ecology and eroticism, Dr. SerenaGaia revives the vibrant, prehistoric connection between nurturing Gaia and mischievous Eros, envisioned as a primal force that "blows the breath of life into all beings." She is the author/editor of many books about Love, including Bisexuality and Queer Theory (2011), Plural Loves (2005), Women and Bisexuality (2003). A renown public speaker, Dr. SerenaGaia teaches Humanities and Cinema at the University of Puerto Rico, Mayaguez. She convened the first academic symposium on Ecosexuality in 2016, and was a 2012-13 Fellow for "Amorous Visions" at U Conn's Humanities Institute. She is working on exciting new books. www.serenagaia.org
Please follow and like us: