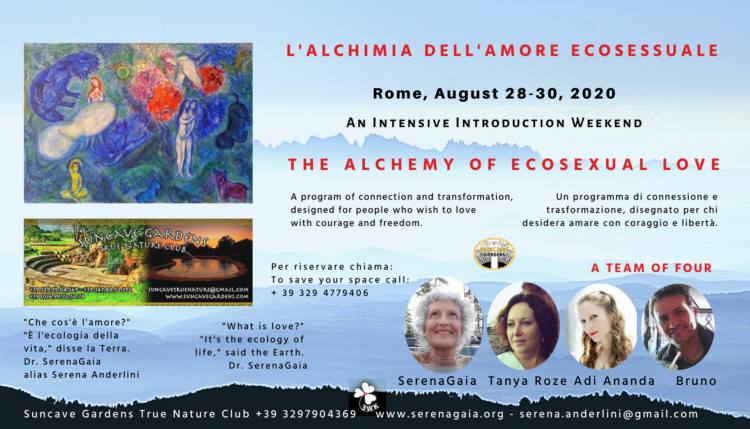 The Alchemy of Ecosexual Love – Rome, August 28-September 5, 2020 – Facilitation Team
Welcome to the 2020 events of the School of Ecosexual Love.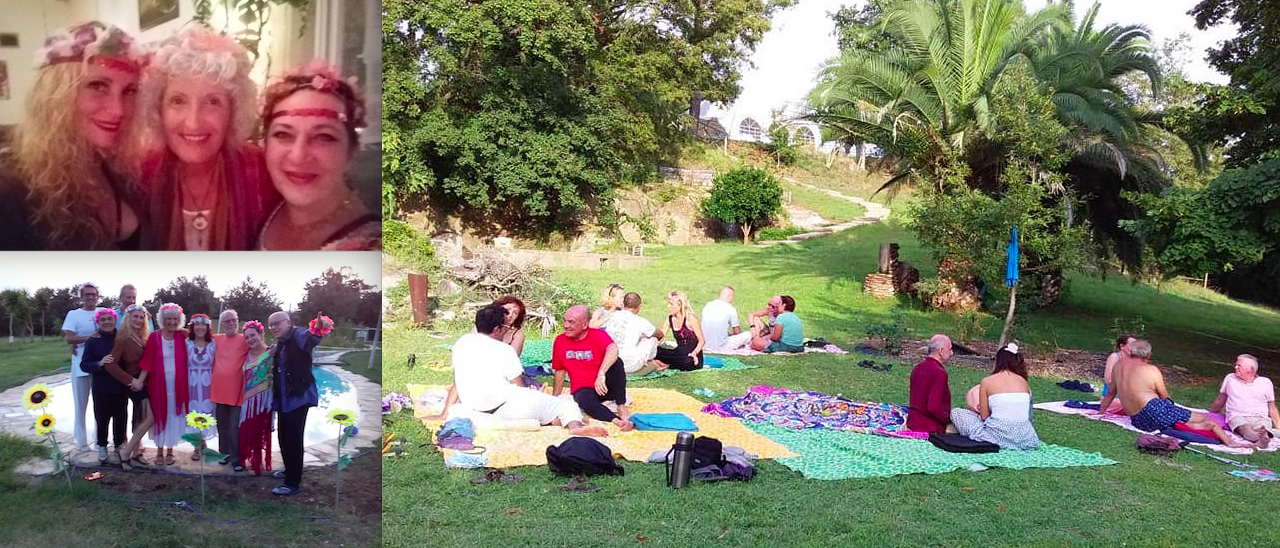 For the 2020 events (Alchemy, August 28-30; Symbiosis, August 30-September 5), we have assembled an amazing facilitation team of artists and healers of Ecosexual Love.
Dr. SerenaGaia, aka Serena Anderlini-D'Onofrio, PhD, is a teacher of #EcosexualLove.  She's the inventor of this Alchemy and is in charge of the transformational process. She is a leader in the ecosexual movement and an expert in the ecology of love. She is trained in Tantra, Tao, ecosexual expression, and holistic bodywork.  She has facilitated in Hawaii, Sweden, Italy, the USA, Puerto Rico and Estonia.
She is a sex-positive educator and has been involved with the Ecovillage Movement since 2005. She keynoted at the Ecosex Symposium in 2012 and at Loving More in 2007. She presented at GEN in 2017and 2018.
An award-winning writer, activist, facilitator, scholar, filmmaker, professor, editor, and cultural theorist, she co-edited the collection Ecosexuality (2015), and co-directed Playa Azul I Love You (2016).  "Her prophetic books," including Eros (2006) and Gaia (2009), "have inspired readers around the world," Dr. Susan M. Block has said.
Dr. SerenaGaia believes that "a world where it is safe to love is a world where it is safe to live," and intends to create that world with her sacred activism.
Website: serenagaia.org
Facebook pages: https://www.facebook.com/AlchemyToo/ https://www.facebook.com/GaiaBlessings/
FILM: https://vimeo.com/user52221909
Contacts: serena.anderlini@gmail.com +39329 477 9406
Adi Ananda Parashakti is a Holistic Spiritual Coach. She is a co-organizer and is in charge of rituals, harmonizing languages, and holding sacred space.
She began her learning focusing on the Mind: practicing meditation and Zen Buddhism, studying engram types & Numerology to better understand herself and other people.
Later, she sought ways to wisely re-connect with her Body: In 2004, she completed her Yoga Teacher Training in Swami Sivananda Asharm in India, where she learned about Pranayama, Mantras & Asanas. She has integrated this body/energetic consciousness learning Thai Chi Chuan, Wu style.
She expanded her knowledge and experiences learning about Energies: becoming a Reiki Master, a Crystal Therapist & Theta Healing Instructor. Deep inside, behind all these disciplines Adi's wild instinctive nature was looking for a way to be understood and expressed.
Her wild inner voice screamed out making her literally fall in love with Tantra! Tantra offered her its magic power: the connection with Mother Earth, with her body, with the Energies, with others.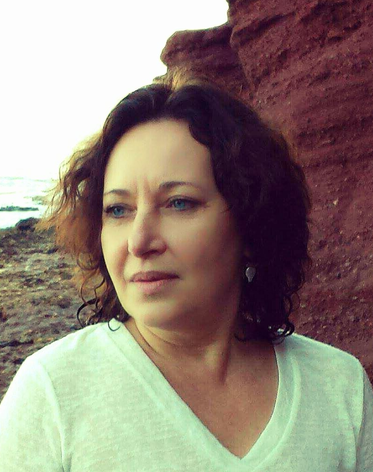 Tanya Rozenthal says: "My teacher in Yogic Healing Sat Nam Rasayan, Guru Dev Singh often said: "You can only take your client as far as you have been yourself". This is very true indeed. As a coach, counselor, therapist, you cannot take your clients beyond the territory you are already familiar with. Shamanism knows the concept of the "wounded healer". It is through healing our own pain that we learn how to heal others. All this also applies to my path to supporting others in their life processes.
Because in my life I felt uprooted on several levels and I often had the feeling that I didn't belong (as a world citizen and world traveler with Russian-Jewish and German roots) I was invited by life to find deeper grounding in myself. From this arose the invitation to look for a really tangible and nourishing connection with my roots, traditions and ancestors. In the meantime, as a true world citizen, I give wonderful workshops in the Netherlands, workshops all over the world."
Mixing experiences can also be found in my professional background. I am trained in musicology and classical literature. And I have more than 15 years of experience in regular women's care as a psychosocial therapist. This provides a combination that makes working with different disciplines during my healing work feel like second nature. But it goes beyond education and work experience … As a body-focused coach / psychotherapist, yoga teacher, musician, and healer, I was inspired at some point by several mystical, shamanic and yogic healing traditions.
Process work, sex education and intimacy coaching, trauma work, systemic work and women's coaching are areas where there is an enormous amount of power for healing. I am ultimately specialized in this and work with it in my practice in Amsterdam.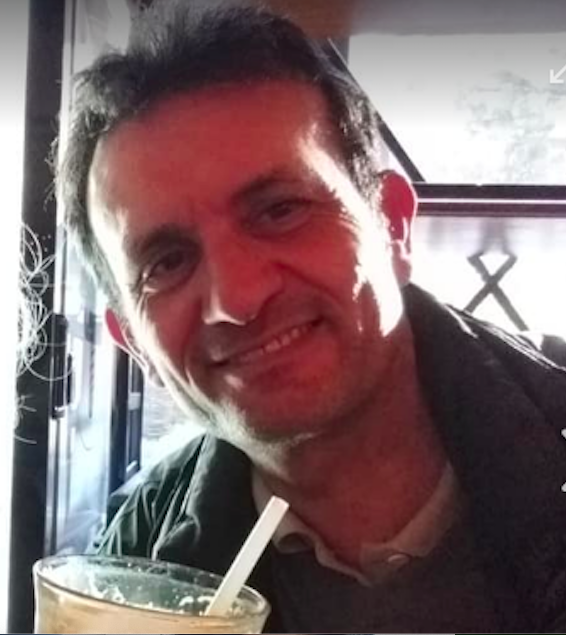 Bruno Fogliano is a posture, physical, motor and ecosystemic rehabilitation therapist. He has years of experience in activation and rehabilitation work with a wide variety of disabled people, including children, adolescents, adults and the elderly. His specialties include work in water, various newly introduced guided modalities, work on the family ecosystem, and physiological opening movements linked to various forms of physical contact.
We also gratefully acknowledge the support of Monique Darling, Peter Petersen, Leonilde Bizarri, Jalesh Patrassi, Leslie Newell, and Supryia Shakti Ji in getting this new program off the ground!
# # # # #
Are you ready for our introductory weekend intensive, The Alchemy of Ecosexual Love? The value of the course is € 197. Our early bird offer is open. An intensive course for a full weekend now at only € 127! And you get our gratitude for joining in the core group.

TO SIGN UP CLICK HERE:
Bank Transfer to Serena Anderlini – IBAN: DE97 7001 1110 6052 5144 00 – BIC/SWIFT DEKTDE7GXXX – Adddress: Handelsbank, Elsenheimer Str. 41, Munchen 80687 Germany
Did you participate in a 2018 or 2019 edition of this course? We offer the course at no tuition charge if you assist us in making it happen. Assistant seats are limited. Confirm and save yours now here!
WELCOME. Find out what this Alchemy program is all about and if at this time it is right for you.
WHERE? The amazing location for this intensive weekend is Suncave Gardens, a beautiful retreat center in the verdant hills of the Roman countryside.
PROGRAM. Find all details about the program's content and schedule here.
JARDIN DES PLAISIRS. Discover here what this Garden of Pleasures is and what it can offer to you.
Refunds? Until July 28, 100 percent guaranteed. After that date: please ask us and we will do our best.
Can we answer any questions? Please do not hesitate to contact us. We look forward to serving you in your journey of #EcosexualLove. Enjoy!
aka Serena Anderlini-D'Onofrio, PhD
Erstwhile Professor of Humanities and Cinema at UPRM
Convenor of Practices of Ecosexuality: A Symposium
Fellow at the Humanities Institute, University of Connecticut, Storrs (2012-13)
Project: "Amorous Visions: Ecosexual Perspectives on Italian Cinema"
#alchimiadellamoreecosessuale  #alchemyofecosexuallove  #drserenagaia
Please follow and like us: