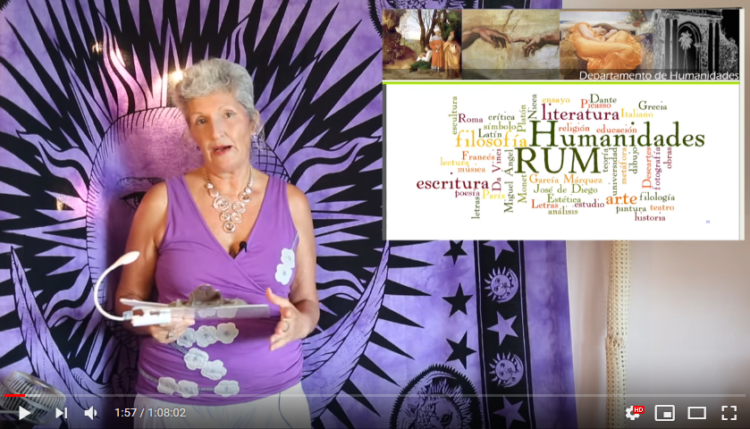 0
Videos
Welcome to the video section of the Webpage of Dr. SerenaGaia, also known as Serena Anderlini-D'Onofrio.  It's a joy to have you here.
Dr SerenaGaia's video production is related to her courses, keynotes, presentations, public appearances, and work-in-progress.  It is a mixture of professional and amateurish videos to be enjoyed and used as educational tools.
Videos are available at the Serena Anderlini You Tube Channel.  They are organized in self-explanatory Playlists.
Especially notable are Dr. SerenaGaia's Nine Lectures on Modern History.  This series of nine one-hour lectures covers world history from 1500 to the present.  It is background to the course The Humanities and Love, which integrates all humanistic disciplines around this inclusive universal theme.  The narrative focuses on Western cultures and their global effects, from the perspective of the Earth and all its peoples. The series can be used widely as a backdrop for hybrid or part-hybrid sections of the course, regardless of theme or approach.
In 2012, Dr. SerenaGaia was invited to give the Keynote to the Symposium on Ecosexuality in Portland, Oregon.  Her presentation, Ecosexuality: The New Orgasmic Revolution on Planet Earth, is accessible at this link.
The playlist Amorous Visions features clips from the classics of Italian cinema Dr. SerenaGaia studies with her students in the course Amorous Visions: Ecosexual Perspectives on Italian Cinema.  This course was a favorite of students at the University of Puerto Rico, Mayaguez, where Dr. SerenaGaia taught for 20 years.  It is now being turned into a book.
Other playlists include videos about the following themes:
Ecosexual Love (20 videos), Bisexuality (1 video), The Wisdom of Love (4 videos), and Gaia and the New Politics of Love (11 videos), and more.
An early version of Dr. SerenaGaia's Courses The Humanities and Love I and II was recorded live in 2011-12.  She is very appreciative of her patient and tech savvy students.  These series display the energy of Dr. SerenaGaia's classroom.  The courses explore the theme of love in cultures from Pre-History to the Early Modern Era, and from the Early modern Era to the present time, respectively.  A large portion of lectures and discussions are on video.
Click for the Playlist of The Humanities and Love I (99 videos)
Click for Playlist of The Humanities and Love II (26 videos).
The channel also features videos Dr. SerenaGaia has uploaded for friends and collaborators and liked.  One special feature is the musical group Los Magicos.
We hope you enjoy this diverse list.  Make love the ecology of your life while inspired by Dr. SerenaGaia's videos.  Stay tuned for more inspiring videos.
Thanks for your visit.  Enjoy the website of Dr. SerenaGaia.