Dear Earthlings:
"A three-day symposium, "Celebrating a Life of Science: In Memory of Lynn Margulis," was held [on] March 23-25th, at the University of Massachusetts, where Margulis taught evolutionary science for decades," opens Victoria N. Alexander on Digital Journal.
Yours truly was blessed with being present at this momentous gathering of the minds. From microscope to telescope, from cell to cosmos, Gaia is the overarching theory of the new era. Lynn Margulis celebrated for ushering the new wisdom.
Yours truly is happy to share snapshots of the speakers, with brief comments about their significance.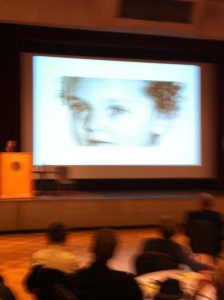 Jennifer Margulis shares about her mother's birth in a hospital, something new in 1938, and of her suffering episiotomies at giving birth to her first three kids. It is now known that these genital cuts help physicians more than babies or women. Lynn studied the problem, and when Jennifer came along, she refused. The doctor approached scissors in had, and she got up from the delivery bed to stop him from using them. Thank you Lynn! The episiotomy I suffered ruined my sexual life for ten years and kept me from wanting more kinds. Somebody had to start. Thanks to you, Lynn, now many women can choose water and squatting positions when giving birth to a baby.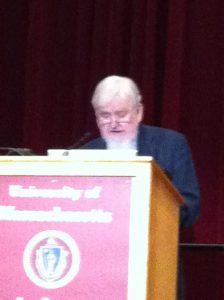 William Irwin Thompson, of Lindisfarne, speaks of the cultural implications of Lynn Margulis's science of symbiosis: collaboration is the overarching narrative of evolution, competition is a footnote. He's a independent philosopher known for his intuitive thinking. Here are the big questions: What does this mean for us humans? Are we going to go along with "nature" or insist on being different?
Dear Earthlings:

Education is the heart of democracy. And that includes education to love. It comes in many forms. Including learning about Lynn Margulis, the role of collaboration in evolution, and Gaia theory.
Did you enjoy the post? Let us know! Yours truly appreciates your attention. The comments box is open.
Come back! And stay tuned for more wonders.
Serena Anderlini-D'Onofrio, PhD
University of Puerto Rico, Mayaguez

Follow us in the social media
Book a vacation at gateway to Gaia, Playa Azul:
Read Victoria Alexander's article on Digital Journal: http://www.digitaljournal.com/article/321533#ixzz1qfRQq68Y
http://polyplanet.blogspot.com