"Bisexuality, Gaia, Eros: Portals to the Arts of Loving"
BiReCon: Selected Proceedings from the 2010 Int'l Bisexual Research Conference
Serena Anderlini-D'Onofrio, PhD, Keynote Speaker
Part 1 – Preamble: Manifesting Bisexuality
It was a pleasure and a privilege to be invited to give a keynote address at BiReCon. As a scholar of bisexuality who comes from the arts and humanities, and as an author who, admittedly, lives her life as an experiment in traversing sexual cultures, I had been waiting for this conference to happen. I had been wishing and rooting for it. I had been wondering what was keeping it from happening–was anything wrong in the Bi movement? When the invitation came I was overjoyed. It took me a while to secure travel funds and confirm acceptance. Thanks to Meg Barker, Christina Richards, Regina Reinhardt and others at the American Institute of Bisexuality for making that trip possible. I prepared to speak of bisexuality as a portal to a world where Eros, the energy of love, is recognized as the force that makes Gaia, the third planet, alive.
[1]
My summer plans got organized around the BiReCon/BiCon appointment in London, UK, beginning August 26th, 2010.
As I said, my intention in giving the address was that of presenting bisexuality as a portal to a world of amorous sensibilities beyond the homo/hetero divide. I consider sexuality the cultural construct of Western modernity that organizes love as a need or an instinct. I find this to be reductionist. Love is of course a need and an instinct. But it's also, and perhaps most importantly at this time, an art. The art of loving is what makes all styles of amorous expression fun, playful, and amusing, including hugging, cuddling, spooning, playing with toys, leather and Jacuzzis, gender-bending, sporting sexy outfits, swinging, threesomes, tantric breathing, and a bunch of other activities that are consensual, inventive, spontaneous, romantic, exciting, intimate, and humorous. These activities keep artists of love in balance with the amorous communities in which they participate. The art of loving, in my view, is inspired by the energy of Eros that infuses Gaia with life. Hence my title: "Gaia and the New Politics of Love: Notes for a BI Planet," which almost coincides with the title of my latest book. Gaia, for the web of life that sustains our species on the third planet; the New Politics of Love, that places love, the source of life, at the new center of the political stage; all of which bodes well for a Planet that's getting BI, with useful Notes provided toward that process.
According to Gaia science, the web of life that sustains our species on the third planet is interconnected. Our first ancestors, bacteria, are four billion years old. They have sex with their neighbors to rejuvenate themselves–regardless of gender or reproduction—and to exchange genes. As artists of love, their behavior is—to say the least—orgiastic. Yet it has been evolutionarily rewarded! We humans, the "new kids on the block" among earthly species, have been at war with Gaia now for quite a while–which has resulted in climate change and other assorted environmental disasters. We could be extinct tomorrow while bacteria are still around.
[2]
Why? There is one simple explanation: Unlike humans, bacteria, our most resilient ancestors, allow the energy of Eros to circulate among them free of needless fears. Gaia is blue, and green, and white. It teems with life. Without our ancestors, it would be as brownish as its neighbors Mars and Venus: A rock where nothing moves. Given this scientific perspective, there is no reason why human bisexuality should not be the most natural, the healthiest thing on the planet.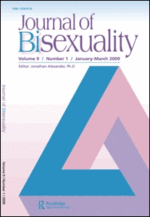 So the idea of a portal seemed fine. It would open new horizons. It would resonate with the work of Robyn Ochs, another keynote speaker, whose book, Getting Bi, registers voices of bi people across the planet. Yet it felt a bit off and perhaps not quite in tune with what was out there in the melee of early third-millennium bisexual life. After all, I came out in the early 1990s, I've organized my personal and professional life largely around bisexuality, and I've had plenty of time to select extraneous influxes out of it. Attendance in BiReCon and BiCon combined provided a unique standpoint to get the pulse of where bisexuality is at in a variety of geo-cultural locations and from the multiple perspectives of research, scholarship, theory, creative expression, advocacy, and community building. (For insights on those dynamics I refer readers to "BiReCon," in this volume, a contribution by the organizers.) The context was perfect for producing knowledge in action. At the time of this writing, I've had a chance to reflect on my own keynote remarks, on the experience of participating in the two events combined, and the process of creating the present volume from contributions thereof. I choose this as an opportunity to offer the wisdom of what I learned in the process, along with a written elaboration of my keynote remarks.
---
[1]
Gaia is the ancient Greek name for the Earth/fertility goddess central to the matrifocal civilizations of the Neolithic (Gimbutas 1989, 2001). Thanks to James Lovelock and Gore Vidal, it is now also used in science (1979, 1988).
[2]
My sources in Gaia science are Margulis and Sagan, 1991 and 1997. Their work as a team shines a significant light on the connections between sexuality, symbiosis, and the evolution of life from bacteria to humans. It falls within the aegis of Gaia theory, respected yet still controversial in many scientific circles. I also refer to my own work (2009), and to Lovelock's classics (1979, 1988, 2001, 2006).
Read the article as it continues to appear in Poly Planet GAIA. Section will be posted every three or four days. Become a follower of the blog and be notified every time a new posting appears.
Acknowledgment: This piece is pre-published here with permission of Routledge, New York, a division of Taylor and Francis.
Bisexuality Research Conference, 28th Bisexuality Conference, 10th International Conference on Bisexuality, London, UK, August 26-30, 2010

BiReCon Proceedings: A forthcoming issue of The Journal of Bisexuality
http://polyplanet.blogspot.com