Dear Earthlings:
The year of wonders is what 2012 is supposed to be.  Yours truly offers snippets of her favorite books.  All on yesterday's forbidden themes.  Let's see if their mysteries are revealed.
Eros is a story that staved the loneliness of her first years in the Caribbean, when she was missing her former Matrias,  California and Italy.
What is language?  What is translation?  What makes one cross the language lines, become a transcultural person?  What's the measure of love in this inclusive discourse?  How does language define how we understand the world?  Imagine its transformation?  Language makes people fall in love from time immemorial.  Yet the very question has become a taboo.  Why?  Language is knowledge, knowledge love.  Isn't that a win-win?  More languages, more ways to love.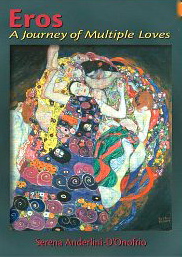 "I was determined to push French and Italian out of my inner landscape.  The combat of one subconscious against the others was driving me crazy.  Blocking the music of my first native language out of my mind eased the pain of losing my baby.  My French lover exited with the second.  I was striving for the inversion that would allow American English to envelop these other languages and make their rhythms accessible.  It was torture for my inner space. English was never spoken at home . . .It was the colonizer's language, and making it my own would help me reconquer my soul.  A colonizer brings women the scent of emancipation  . . . and [as a teenager] I used to spend time  . . . deciphering lyrics [from the Beatles and Rolling Stones]" (63).
The narrative continues as Gaia becomes a translator and facilitator across cultures and languages.  Oh blessed be!
Dear Earthlings:

Education is the heart of democracy.  And that includes education to love.  It comes in many forms.  Including learning about Eros and journeys of multiple loves.
Eros: A Journey of Multiple Loves was a Lambda Finalist in 2007.  It is now being considered for translation in to Spanish by a press in Madrid.  Access to this memoir would be a great gift to Spanish speakers across the globe.  If you agree, leave a comment and we will let the publisher know.  Gracias!  
Did you enjoy the post?  Let us know!  Yours truly appreciates your attention.  The comments box is open.

Come back!  And stay tuned for more wonders.
Serena Anderlini-D'Onofrio, PhD
University of Puerto Rico, Mayaguez

Follow us in the social media
http://polyplanet.blogspot.com