Welcome to the book section of the Webpage of Dr. SerenaGaia, also known as Serena Anderlini-D'Onofrio.  It's a joy to have you here.
Books by Dr. SerenaGaia have been described as "prophetic" and they "have inspired readers around the world to open up to the many-splendored glories of our poly-delicious life on this beautiful blue dot the Greeks called 'wide-bosomed Gaia' (Hesiod, 700 BCE)."
As Dr. Susan M. Block puts, it, Dr. SerenaGaia work "revives the vibrant, prehistoric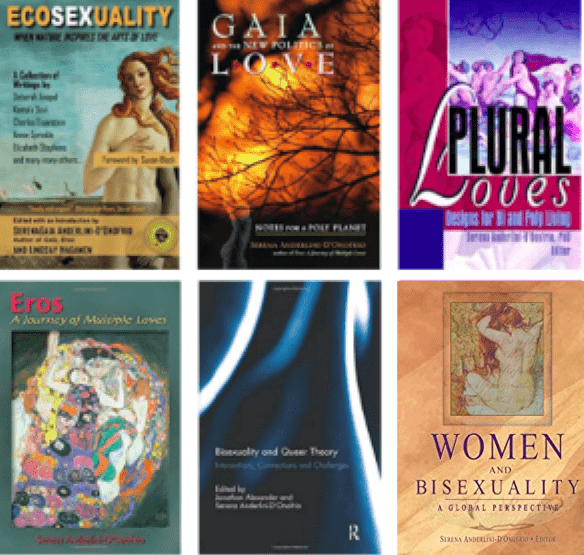 connection between nurturing Gaia and mischievous Eros, whom the ancients envisioned as not just a sex god but a primal force that 'blows the breath of life into all beings.'  Artfully weaving together Gaiaa and Eros, ecology and eroticism, [these] books create a multi-disciplinary, many-colored, poly-textured tapestry of love."
Susan M. Block, Author of The Bonobo Way, 2015
What sweet comment that is.  Between 1995 and the present time, Dr. SerenaGaia has authored, co-authored, edited, co-edited, and translated over ten books.  They are available for sale on her Author's Page on Amazon.com.  Please visit and take your pick.  Thank you!
Perhaps you already own a copy of her Eros: A Journey of Multiple Loves (2006) and/or her Gaia and the New Politics of Love (2009).  And if you don't, this would be a perfect time to get one.  Gaia is on its second edition.  Very affordable, in both paper and kindle. Eros will soon be, we hope.  If you do have copies, you can perhaps consider gifting your beloveds with these inspiring books.  A memoir of Dr. SerenaGaia's early life and amorous experiences, Eros is the narrative that inspired Gaia's poly theory and ecosexual ideas.
As an editor, Dr. SerenaGaia is appreciated for her collections.  They are diverse an inclusive.  They integrate multiple voices and introduce trail blazing ideas.  They include:
Women and Bisexuality (2003)
Plural Loves: Designs for Bi and poly Living (2005)
Bisexuality and Queer Theory (2010)
BiTopia (2011)
The most recent collection, Ecosexuality: When Nature Inspires the Arts of Love (2015) has been instrumental in launching the ecosexual movement.  Notable contributors include KamalaDevi McClure, Anne Sprinkle, Susan M. Block, Beth Stephens, Deborah Anapol, Charles Eisenstein, and others.  Access the book's website here.  Enjoy your visit.
Dr. SerenaGaia is also the author of a study of women in modern drama, The 'Weak" Subject (1998).  She is the translator of In Spite of Plato (1995), a book of feminist philosophy by Adriana Cavarero, and of the collection of lyrical poems A Lake for the Heart, by her late father, Luigi Anderlini.
We hope you enjoy this diverse list.  Make love the ecology of your life while inspired by Dr. SerenaGaia's books.  More inspiring books are coming, including a series of dialogs about ecosexual love and a study of ecosexual perspectives on Italian cinema.
Thanks for your visit.  Enjoy the website of Dr. SerenaGaia.
---