FOR IMMEDIATE RELEASE
PRACTICAS DE ECOSEXUALIDAD y la EDUCACION al SEXO-POSITIVO: SIMPOSIO 2

KEYNOTE: INTRODUCING ECOSEXUALITY and SEX-POSITIVE EDUCATION
                    A 4-WAY PANEL on the ARTS of ECOSEXUAL LOVE
Feb 2, 10:30 AM SALON TARZAN, UPRM–COLEGIO
PANELISTS:  KAREN HERY, LINDA RODRIGUEZ, DR. SERENA GAIA, SAFFIRE BOUCHELLION
A FIRST for the AREA OESTE and UPRM:  CARIBBEAN SEASON of #ECOSEXUALLOVE
January 16, 2017
Contact: serena.anderlini@gmail. com, Tel 787 538 1680
Dear Earthlings–
This season of Caribbean balms we offer a beautiful calendar of events of #EcosexualLove.  We welcome all interested parties.  There is no charge.  Why?  We want to seed the Area Oeste with the inspiring energies of #EcosexualLove.  Join us!
Event # 1:
Dates: Feb 2-3.  Practices of Ecosexuality and Sex-Positive Education: A Symposium.  Time: 10 AM to 6:30 PM.  Where: UPRM (Colegio), Salon Tarzan (Anexo a la Cafeteria).  Free of charge and open to the public.
Description: This symposium is designed to educate participants about the role of ecosexuality in helping humans to reconnect our metabolism to the partner we all share: the Earth, and design unscripted amorous lives that appreciate the beauty and health of natural surroundings.  The symposium also focuses on the skills people use in communicating their desires to others, in negotiating partnership that all participants enjoy, and in agreeing upon practices of love that are totally consensual and appreciated by all parties.
The events includes over 20 guest speakers, presenters, facilitators.  Guests are coming from far away locations including the ancient Mediterranean island of Malta, Montreal, Canada, and Portland, Oregon, and from numerous locations in Puerto Rico, including the Area Metro and the Area Oeste.
They are activists, students, professionals, teachers, practitioners, poets, professors, artists, and much more.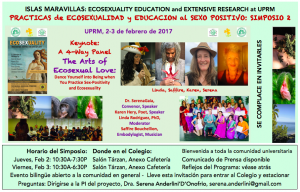 Event # 2:
Date: Feb 4.  Te Amo Playa Azul I Love You Three.  A Plural Wedding of Ecosexual Love.  Time: 10:30 AM – & PM.  Playa Azul, on the tip of Punta Arenas, Carr 102, Km 11.6, Joyuda, Cab Rojo.
Description: This Plural Wedding celebrates the natural ecosystems of Puerto Rico or any other Caribbean island for what they are: Loving partners in the fruition of people's amorous lives.  The event is designed to support participants in making love the ecology of their lives.  The program consists of three workshops, designed to help participants to connect 1) with their own personal ecosystem, 2) with the partner we all share, the Earth, and her elements water, fire, air, earth,  and, 3) with those who share this partner with us.   In between we rise the energy of #EcosexualLove with oxytocin group hugs.  The event culminates in a simple ceremony at dusk when participants symbolically marry the beach, and become its "spice."
Nota: Ambos eventos son bilingues y participativos.  Los y las participantes estan invitadxs a expresarse en su idioma de preferencia.

Share the news with your friends and beloveds.  It's always good to experience something new with company you enjoy.
Send it as a Press Release to papers you like.
Let us know if there are any questions we can answer.
Thank you!
Enjoy the Caribbean breezes this early 2017.
Blessings and abundant #EcosexualLove.

aka Serena Anderlini-D'Onofrio, PhD

Professor of Humanities and Cinema
University of Puerto Rico, Mayaguez, PR 00681-9264 (USA)
Convenor of Practices of Ecosexuality: A Symposium at UPRM
Fellow at the Humanities Institute, University of Connecticut, Storrs (2012-13)
Project: "Amorous Visions: Ecosexual Perspectives on Italian Cinema"