Dear fellow educators, colleagues, students, film buffs, lovers of cinema:
In the spirit of challenge and renewal at UPRM and in Puerto Rico, the current course in Italian Cinema opens its doors to invite you for a CLASE ABIERTA event.
Please join us on Tuesday, November 1st at 5:30-7:00 PM in Chardon 226, for a presentation from the research project Amorous Visions, followed by a bilingual Questions and Answers period.  Look above or download the descriptive flier here.
The course in Italian cinema has been an inspiration to me and to many groups of students over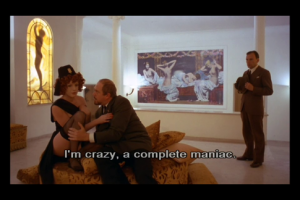 the years.   What does it mean to appreciate, participate, enjoy, observe, learn from, and think about the art of the 20th century that studies the relation of "time, space and movement," as Gilles Deleuze put it?   Students have been my most valuable teachers.  From them I've learned to look at cinema anew.  My study of ecosexual perspectives on Italian cinema is a direct emanation from this experience, and has evolved with multiple support from internal and external sources.  It is time to share about it with our local and regional intellectual community.
Italian cinema is a particularly fertile terrain for this epistemic inquiry.  So many "sheets of the past" emerge from the mise-en-scene of art cinema from Italy.  So many personal, intimate scenes invite a reflection on how our amorous lives are impacted by the ecosystems that we live in.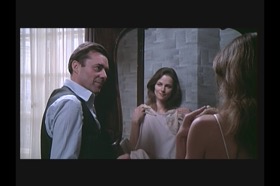 In this invitation, we will present a study of two classics of Italian cinema from the 1970s.  Remember The Conformist and The Night Porter?  Very ecosexual.  Very Deleuzian.  Right?  If you're a cinephile, you cannot have missed them.  If not, this is a perfect time to meet these two majestic films.  Students in the current Italian Cinema group are quite advanced in Deleuzian and ecosexual approaches to cinema.  They are excited to welcome visitors and other participants for this special CLASE ABIERTA EVENING.   Many of them will surprise you with their participatory questions and observations.
Join us in animating the evening.  Participate and invite your own students.  Below please find more information about the event.
Thank you!
# # # # # # #
Title:
Ecologies of Love and Toxic Ecosystems:
Lessons from the Holocaust in Cavani and Bertolucci
Abstract
This study analyzes two classics of Italian cinema from an ecosexual perspective.  Bertolucci's The Conformist (1970) and Cavani's The Night Porter (1974) share a theme:  the 20th century Holocaust in Europe where circumstances are extreme and the ecosystems that host people's lives are replete with toxicity.  The study integrates elements of Deleuzian and film theory, political history, the history of cinema, and cultural discourses about fluid and inclusive practices of love like bisexuality and polyamory.  It focuses on the relationship between mise-en-scène, or representation of the physical, emotional, interpersonal, and political ecosystems where characters' lives unfold, and the styles of sexual and amorous expression they deploy in their intimate scenes.  Its approach is unique.  It empowers a vision of how the energy of love behaves in toxic ecosystems, surviving as love for love or erotophilia.  When the auteurs explore the inner landscapes of the films' protagonists via Deleuzian time-image sequences, the sexual fluidity and amorous inclusiveness present therein become visible as a way to save love for love in the midst of extreme ecological toxicity.  In Bertolucci the fear of love prevails:  Marcello kills the woman who inspired love in him.  In Cavani this expansive sense of love manifests the imagination of a world where "it is safe to live because it is safe to love."  The author claims that Cavani succeeds because her diegetic structure is organized rhizomatically.   The inner landscapes of multiple interconnected consciousnesses are made visible in the interlocked time-image sequences of her dyad Max and Lucia.
Note:
The article that corresponds to this presentation will be published in Rhizomes: Cultural Studies in Emerging Knowledges, an open-source peer-reviewed journal.   It uses numerous series of stills from both films.  The conference presentation uses a series of clips.  The latter will be presented in a 60-minute format, followed by Q & A sessions.

Stay tuned:  In the Spring of 2017 we also plan a more formally organized event about Amorous Visions.  It will be widely announced and open to the wider Arts and Sciences community at UPRM, and beyond.
About the Author
Serena Anderlini-D'Onofrio, PhD, is the author, editor and co-editor of Women and Bisexuality (2003), Plural Loves (2005), Eros (2006), Gaia (2009), Bisexuality and Queer Theory (2010), and BiTopia (2011).  Her articles have appeared in DisClosure, New Cinemas, Rhizomes, Nebula, WSIF, and VIA.  She is the author of The 'Weak' Subject (1998), and the co-translator of In Spite of Plato, by Adriana Cavarero (1995).  Anderlini-D'Onofrio has spoken about polyamory on Italian public television.
More recently, Anderlini-D'Onofrio has adopted the sacred name of Dr. SerenaGaia.  At the helm of the ecosexual movement, she has keynoted at various symposia, and is co-editor of  Ecosexuality: When Nature Inspires the Arts of Love (2015), the first collection on this topic.  Dr. SerenaGaia is the convenor of Practices of Ecosexuality: A Symposium at UPRM, and is at work Amorous Visions, a study of Italian cinema from an ecosexual perspective.
News and project updates at www.serenagaia.org


Essential Filmography and Bibliography
Anapol, Deborah.  Polyamory in the 21st Century.  New York: Rowman and Littlefield, 2010.
Anapol, Deborah.  Polyamory: The New Love without Limits.  San Rafael, CA.: IntiNet Resource Center, 1997.
Anderlini-D'Onofrio, Serena.  Gaia and the New Politics of Love: Notes for a Poly Planet.  Berkeley: North Atlantic Books, 2009.
Anderlini-D'Onofrio, SerenaGaia and Lindsay Hagamen, eds.  Ecosexuality: When Nature Inspires the Arts of Love.  Puerto Rico: 3WayKiss, 2015.
Bertolucci, Bernardo.  Il conformista/The Conformist.  Rome: Green Film, 1970.
Cavani, Liliana.  The Night Porter.  Rome, Italy: Ital-Noleggio, 1974
Deleuze, Gilles.  Cinema I: The Movement Image.  (Original appeared in 1983.)  Hugh Tomlinson tr. University of Minnesota Press, 1986.
______  .  Cinema II: The Time-Image.  (Original appeared in 1985.)  Hugh Tomlinson tr.  University of Minnesota Press, 1989.
Deleuze, Gilles and Felix Guattari.  A Thousand Plateaus: Capitalism and Schizophrenia.  Tr Brian Massumi.  University of Minnesota Press, 1987.
______.  Anti-Oedipus: Capitalism and Schizophrenia.  New York: Penguin, 2009.
Anderlini/Ecologies of Love/Abstract, 3
Diamond, Lisa.  Sexual Fluidity: Understanding Women's Love and Desire.  Cambridge: Harvard UP, 2008.
Kline, Jefferson.  Bertolucci's Dream Room: A Psychoanalytic Study of Cinema.  Amherst: University of Massachusetts, 1981
Marrone-Puglia, Gaetana.  The Gaze and the Labyrinth: The Cinema of Liliana Cavani.  Princeton University Press, 2000.
Moravia, Alberto.  The Conformist.  London: Steerforth, 1999.  (Originally published as Il conformista in 1951.)
Veaux, Franklin and Eve Rickert.  More than Two: A Practical Guide to Ethical Polyamory. Thorntree Press, 2014.