picture & article from YanezMagazine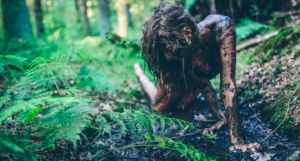 I met SerenaGaia one evening at the summer gathering of GEN, Global Ecovillage Network. This year the meeting was held at La Comune di Bagniaia [the Commune of Bagnaia], in Tuscany. Between this event and the meeting of RIVE, the Italian Network of Ecological Villages, in July 2019, Bagnaia has hosted more than 1000 people. As a group, the "Piumani" are now a significant element in the event's program and its organization. Since I am a Piumano myself, this year, I was happily one of the volunteers, or, as we call them here, "Volentieri," a pun that plays on the meaning of this Italian word, "with pleasure".
It was evening, after dinner, when this lady and I started chatting about a book I was reading. As we got closer, I discovered she is exactly the age of my mother, which out of respect for both ladies we won't say. It was a very pleasant deep intriguing conversation under the moonlight. After a few hours we walked ourselves to our respective tents and we hugged for a while as a goodnight gift before parting. As I looked at the stars, while falling asleep, I thought "what a sweet, pleasant encounter."
A constant image of her: curly white hair, sometimes with a purple-colored hair lock. Among that hair, often, a wreath of flowers. Bubbling smiles like an enthusiastic girl who, when laughing to her heart's content, would not hide whiffs of healthy pleasure. Hands quick and clear in explaining concepts with gestures, as well as in caressing and stretching out energies when the vibration is high.
The next day I am with the leaders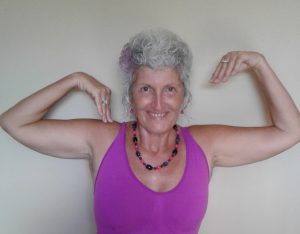 of the organization when she appears, in her most formal and professional demeanor, with a complaint about books she sent for her presentation which had been sent back by mistake. This way I discover she is one of the lecturers in one of the many workshops and seminars for which people from all over the world come to these events.
Dr. SerenaGaia, aka Serena Anderlini-D'Onofrio, whose Italian name means serene and joyful, holds a course in Ecosexuality, a quick taste of what can be more thoroughly experienced in her seminars on the Alchemy of Eco-sexual Love. One can also read about this in one of her many publications, to name just a few: Eros: A Journey of Multiple Loves, Gaia and the New Politics of Love, Women and Bisexuality and many others. On her site she is defined as a leader in the eco-sexual movement, as well as an expert in the ecology of love. "A world where it is safe to love is a world where it is safe to live," she claims, and intends to create this world with her sacred activism.
By all effects an American, so much so that she no longer even feels Italian is her preferred language, she has lived in the United States for most of her life. In California she became familiar with, and supported the bisexual movement (sometimes known today as "queer"), and in Puerto Rico she was for years a university professor. And it is precisely in the USA the she joined the revolutionary movement that stands "for an ecological love."
But who are, in short, these Ecosexuals? In fact, this neologism in quite new. if you google it you could get the idea that they are, or should I say we are, mad people having sex with trees. This kind of facile humor, which also often happens in relation to topics like pranic nutrition and other holistic practices, is a natural human defense against what is not known. Potentially very dangerous according to some, these ideas and theories take the risk of questioning everything upon which one's life is based. Therefore they are often exposed to contempt, mockery, belittling. All it takes is a quick look at the cartoons about Darwin and his theory on the "ape man," considered absurd in his times, at the disputes against heliocentric theories, or the disbelief around Columbus as he claimed he could reach the Indies etc. Ah ah ah. Big laughs.
Yet, as the web reassures, unlike other movements, this one, albeint rapidly growing, focuses on personal pleasure and attitude rather than protests or political ends. So, basically, "it's okay." What's important, always, is for it to appear harmless enough. Or maybe not so?!
Find out next week in our next segment!
…
this article will continue next week with Ecosexuality 2/3 – when love goes 100{a9d64f7890d157e71e6efcce19e215a5f853c7f4151cde0b7bf7aada464173f6} bio
#drserenagaia #GEN #RIVE #Ecosex #Ecosessuality #YanezMagazine
a co-translation into English by Dr. SerenaGaia and Selva