Dear fellow educators, colleagues, students, film buffs, lovers of cinema:
Friday Noon Colloquium is the new research-in-progress series hosted by Michael Huffmaster, in the German Studies program, Humanities at UPRM.
The series begins at noon on Friday, October 18 in the lobby area (Sala de Conferencias) of the OF-Edificio de Profesores building at UPRM.  It's wonderful to have this space to share for those of us active in the humanistic and cultural studies research arena.  Check the series flier here.
What's the topic of this inaugural event, you may ask?
The presentation of Amorous Visions, a book proposal for a study of Italian cinema from an ecosexual and Deleuzian perspective.  Look above or download the descriptive flier here.
Yes.
This is the project that took me to Connecticut some years ago, when I won the external fellowship of the University of Connecticut Humanities Institute and also received support from the College of Arts and Sciences at UPRM to use it.
This is ALSO, and very significantly, a project that has emanated from the course in Italian cinema that I have been teaching at UPRM over the years, beginning in and around the year 2000.  This course has been an inspiration to me and to many groups of students over  the years.   What does it mean to appreciate, participate, enjoy, observe, learn from, and think about the art of the 20th century that studies the relation of "time, space and movement," as Gilles Deleuze put it?   Students have been my most valuable teachers.  From them I've learned to look at cinema anew.  My study of ecosexual perspectives on Italian cinema is a direct emanation from this experience.  It is time to share about it with our local and regional intellectual community.
What is an ecosexual perspective in the study, practice, creation, and appreciation of cinema?  How can this kind of perspective relate to Deleuze's cinema theories?  Italian cinema is a particularly fertile terrain for this epistemic inquiry.  So many "sheets of the past" emerge from the mise-en-scene of art cinema from Italy.  So many personal, intimate scenes invite a reflection on how our amorous lives are impacted by the ecosystems that we live in.
My project has evolved alongside with my contributions to the vibrant ecosexuality movement.  In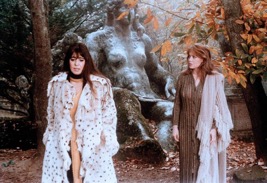 2015 i was privileged in c-editing the first collection of writings on this topic, an arena of emerging knowledges where nature inspires humans to practice the arts of love.  It encourages our amorous expressions to sustain the health and well being of our own and our surrounding ecosystems.  A change in metaphors is due.  When we treat the Earth as a lover, we become aware of how much we need the blessings of this partner we all share.
We have successfully hosted the first symposium on this topic in the Caribbean last year, and plan a new edition in 2017.
In this presentation, I will outline how my book project on Italian cinema evolved alongside my participation in the ecosexual movement while I also evolved as a a professor and scholar of cinema.
Join us in animating the event.  Participate and invite your own students.  Below please find more information about the event.
Thank you!
# # # # # # #
Title:
Amorous Visions: Ecosexual Perspectives on Italian Cinema
Presenting a Book Proposal
This presentation traces the evolution of the book proposal Amorous Visions from the idea of teaching a course in Italian cinema from a philosophical perspective while attending the desire of UPRM students to explore the direct connections between a film's mise-en-scène and its erotic/amorous scenes.  The proposal is organized around the philosophy of Deleuze and his study of cinema, as well as the cultural discourses of sexual fluidity and amorous inclusiveness.  The proposal benefits from the in-depth study made possible by externally funded research also sponsored by Arts and Sciences at the RUM.
The presentation will be a 20-minute plus 10 minutes for a Q & A session.
It will be done on a laptop with stills and clips.
The format is suitable for a small audience.
About the Author
Serena Anderlini-D'Onofrio, PhD, is the author, editor and co-editor of Women and Bisexuality (2003), Plural Loves (2005), Eros (2006), Gaia (2009), Bisexuality and Queer Theory (2010), and BiTopia (2011).  Her articles have appeared in DisClosure, New Cinemas, Rhizomes, Nebula, WSIF, and VIA.  She is the author of The 'Weak' Subject (1998), and the co-translator of In Spite of Plato, by Adriana Cavarero (1995).  Anderlini-D'Onofrio has spoken about polyamory on Italian public television.
More recently, Anderlini-D'Onofrio has adopted the sacred name of Dr. SerenaGaia.  At the helm of the ecosexual movement, she has keynoted at various symposia, and is co-editor of  Ecosexuality: When Nature Inspires the Arts of Love (2015), the first collection on this topic.  Dr. SerenaGaia is the convenor of Practices of Ecosexuality: A Symposium at UPRM, and is at work Amorous Visions, a study of Italian cinema from an ecosexual perspective.
News and project updates at www.serenagaia.org
Thank you!