Dear friends of Gaia and appreciators of Gaia and the New Politics of Love:
We have a wonderful announcement to make.
The book, Gaia and the New Politics of Love has been released and is in print again, available for purchase to everyone who's excited about it and anyone who might have missed it.
The new aegis under which the book will be made available is 3WayKiss, a non-profit dedicated to research and education in the arts of love.
The text, cover, and price of the book will be unvaried.
Based on continuing interest on the part of our public for this seminal work and the research therein, we at 3WayKiss have decided to keep this book in print. It is a service to the public and to knowledge itself that entails no financial reward.
The book will be available on Amazon.com, on CreateSpace, on Kindle, and possibly on Ingram.  The approximate date of release is early November 2016.  For those of you who've been waiting to get your copy, we have good news.  It's coming!
Follow updates at the Gaia book's Facebook page here.
As an added gift to the temple of knowledge, an entirely revised take on Gaia is in the works as well.  This book is tentatively entitled Gaia 2.0. It will position Gaia theory in the context of the Ecosexual Movement, it will be structured as a dialog, and it will contain a practical guide to the creation of one's amorous and inclusive consensual Bonoboville.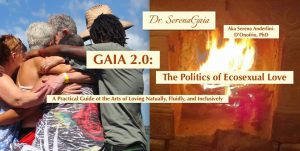 The process is co-creative.  For those of you interested in participating, the Facebook group can be found here.
Thanks to all for your patience in these transitions.
We look forward to all returning and new excited readers.
May Gaia inspire a world where is it safe to live because it is safe to love, a world where love is the ecology of life.
For more information, go to http://drserenagaia.wpengine.com/blog-2/
In love,