This event will introduce #Ecosexuality to the people of Western Puerto Rico, to all interested students and community members of UPRM.
What is #Ecosexuality? How can we practice #EcosexualLove? What is its transformative potential for our ecosystems, our regions, ourselves, the world? What is the #EcosexualMovement? How can we bring its excitement and effervescence into our lives, communities, learning practices, and academic discourse?
These and more questions will be addressed in two days of symposium a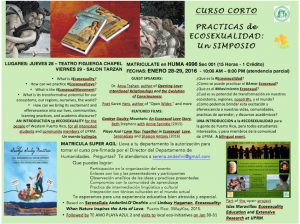 ctivities designed to offer a diversity of participating options, including: panels, videos, films, dialogs, staged readings, book presentations, poems, art, songs, workshops, and other kinds of creative events. Join us! Invite your students, colleagues, partners, friends.
–Thursday the 28 will be our theory day: Meet us in the Teatro Figueroa Chapel, Lobby, RUM.
–Friday the 29 will be our practice day: Meet us in the Cafeteria Annex, RUM.
–Ecosex movies are planned for both days.
–Local, fresh, and in-season delicious foods are also in the works.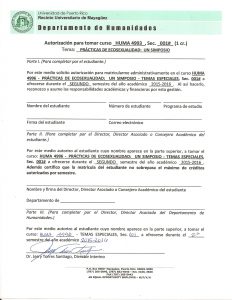 The Symposium is free of charge and open to the public.  You are welcome to mark yourself as attending on the Facebook page.  The event can be attended for credit as a one-credit course by students in any department of the UPR Mayaguez system.  For details see the description above.  To enroll, download and print this pre-signed authorization form.
Here are some tag lines for #Ecosexuality:
–Ecosexuality is often thoughts of as the cultural practice that enables our species to reconnect our metabolism to the metabolism of the partner we all share: the Earth.
–Ecosexuals often imagine the Earth as a lover rather than a mother.
–Ecosexual Love is the love that reaches beyond gender, numbers, orientations, ages, races, origins, species, and biological realms, to embrace all of life as a partner with equal rights.
–It's exciting to think of love as the ecology of life.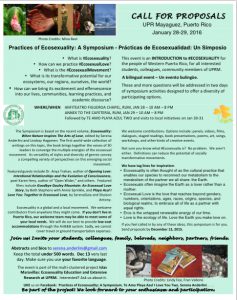 –Eros is an untapped renewable energy of our time.
–It's great to love the Earth we make love on.
Our call for contributions is now open.  Here to the right for details.  Have you been thinking along any of these tag lines? Many exciting proposals have been pledged by participants, local and world wide. If you feel inspired to participate, please do send us your idea and will will consider it for inclusion in the program. Thank you!
Please make sure you tell us what you want to do on or before December 13. Thanks!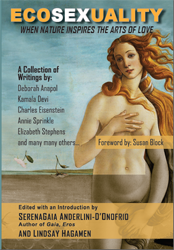 The Symposium is based on the recent publication, Ecosexuality: When Nature Inspires The Arts Of Love, edited by Serena Anderlini and Lindsay Hagamen. The first world wide collection of writings on this topic, the book brings together the voices of 30 leaders to converge the multiple energies of the ecosexual movement, its versatility of styles and diversity of genres convey a compelling variety of perspectives on this emerging social movement.
The event is part of the UPRM-based project Islas Maravillas: Ecosexuality Education and Extensive Research at UPRM, whereby PI Serena Anderlini and her teams intend to "manifest a convergence of energies to awaken the Area Oeste, the Colegio, and the entire region that surrounds the University to the experience of ecosexual love naturally inspired by the gentle and caressing nature of the Caribbean." It intends to design public private alliances that organize local resources into eco-sustainable initiatives across the region.
This Symposium a beginning. It will be followed by Te Amo Playa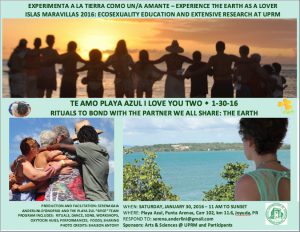 Azul I Love You Two, a Plural Wedding of Ecosexual Love, on January 30th. This event is also free of charge and open to the public. Here's your invitation. Space is limited in both events.  So save your spot early. Let us know you are joining on Facebook, or by email at serena.anderlini@gmail.com, or (for UPRM students) by signing up for the course. Thank you!
Planning a trip to the enchanting island of Puerto Rico for the occasion? It's easy. Book flights into the Aguadilla/BQN airport. Reserve a rental car. You will be only a 40 minute drive from the events. For housing, let our local contact Maria Preston, in the Cabo Rojo/Playa Azul area, do the job, at 787 360 3396. She will reserve a beautiful and affordable beach front apartment you can share with friends. Enjoy!
For Islas Maravillas, with your collaboration we look forward to evolving much more. Clusters in the projects include courses, field trips, internships, events, and seminars, for a University that extends its transformative influence over the territory.
Be part of the project! We look forward to making this happen with your enthusiasm and participation.
Let the gift economy occupy your heart. Enjoy the Holiday Season and look forward to our ecosex events in January.