Press Release: Senior UPRM Faculty Awarded Humanities Fellowship at U Conn, 2012-13
Contact: Serena Anderlini, 787 538 1680

Dear Office of the Press:

It is a pleasure to release the news that the University of Connecticut notified me this week of the offer of a research award of major significance in the humanities, a one-year Fellowship at the University of Connecticut Humanities Institute, UCHI. The Institute is one of the few of its kind in the US system, with fellowship awards comparable to the National Humanities Center in North Carolina and the Guggenheim Foundation in New York City.

Here is the project's basic information:
Title: Amorous Visions: Fluid Sexual Moments in Italian Cinema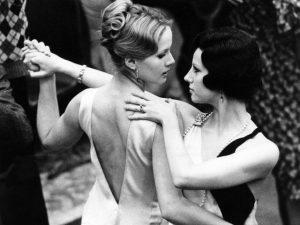 Anna and Giulia in The Conformist, 1970
Summary: This study articulates a new interpretation of pivotal scenes in selected classics of Italian cinema based on the cultural constructs of "amorous inclusiveness" and "sexual fluidity" elaborated in recent cultural analyses of human sexual, erotic, and amorous behavior (Ryan and Jetha 2010, Diamond 2009). These classics include Pasolini's Teorema (1968), where a mysterious guest awakens the erotic libido of all members in a nuclear family, and Bertolucci's The Conformist (1970), where a charming hostess similarly awakens both members of a newlywed couple. Based on these new interpretive paradigms, these scenes acquire a new meaning that discloses the bisexual and polyamorous content therein. This enables more positive and complete understandings of the films as projects that artistically express love for love, or erotophilia. As an experienced scholar who charted new research fields that study love as the art of crossing beyond sexual divides and exclusivity (BiTopia, 2011), I am uniquely prepared to articulate these interpretations.
I am a senior faculty in the Department of Humanities with many research achievements to my credit, including books that have received prizes and charted new fields of knowledge. I recognize UPRM as an institution where the originality of my research has been honored and nurtured. This external funding award is a deserved reward for the many years of internal funding from which my works have benefited.

I imagine you'd like to publicize the happy news in a online piece. That would be wonderful! I'd be happy to send more information and am available to interview. Please feel free to contact me. I look forward to hearing from you. Please let me know if I can answer any questions.

Namaste,

Serena Anderlini-D'Onofrio, PhD
University of Puerto Rico, Mayaguez

Follow us in the social media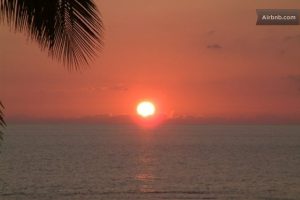 Book a vacation at Gateway to Gaia, Playa Azul, Puerto Rico

http://polyplanet.blogspot.com