Welcome to the 2020 Programs of the School of Ecosexual Love.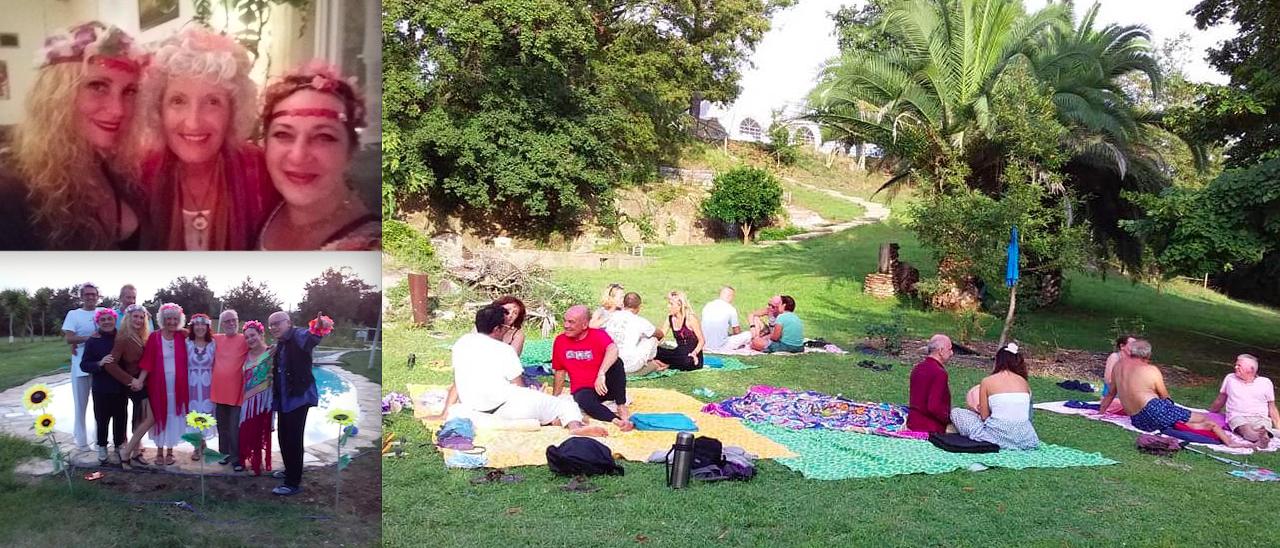 WHERE?
For the 2020 events (Alchemy, August 28-30; Symbiosis, August 30-September 5), we have reserved in exclusive the stunning location of Sauncave Gardens, a retreat center in the verdant hills of the Roman countryside.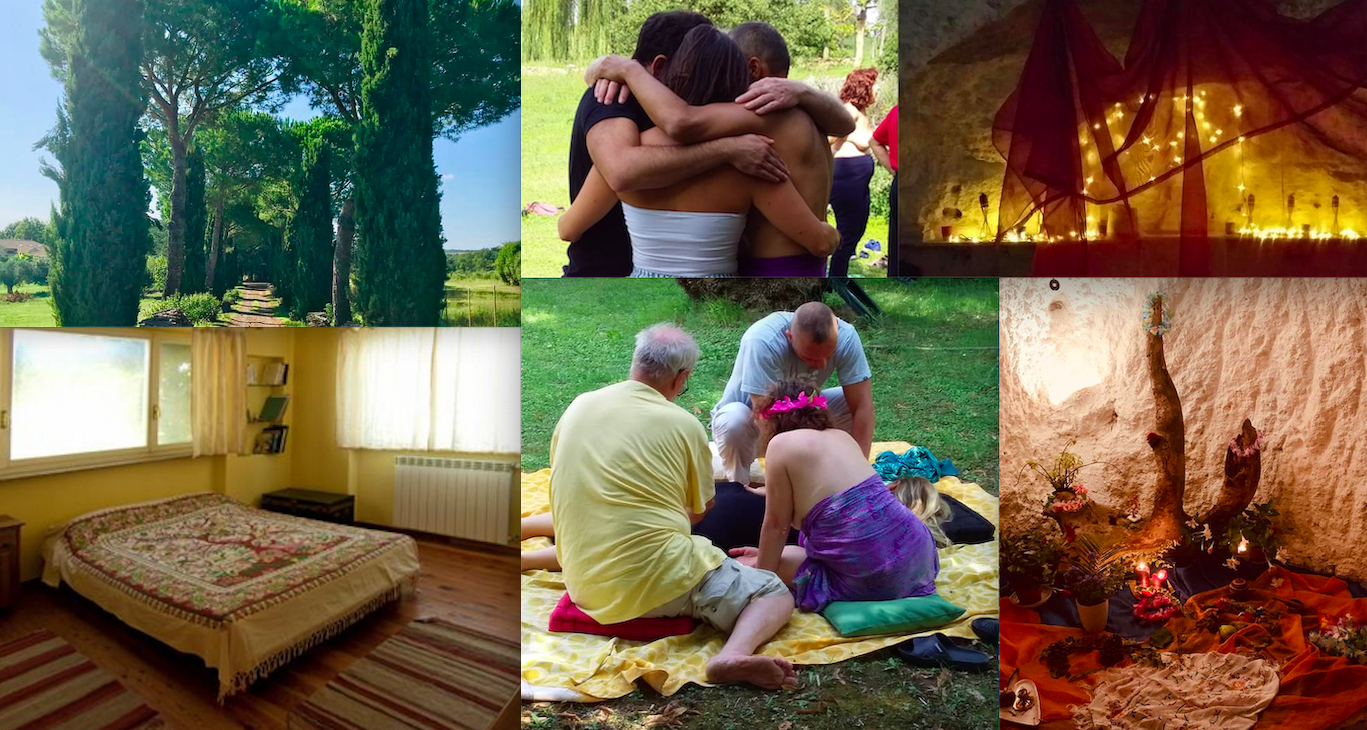 The Retreat Center
Suncave Gardens offers many acres of verdant meadows with elegant flower beds, fruit trees and an abundant vegetable garden. The event center is characterized by a sun-kissed amphitheater that opens up to a series of evocative, well-tended Etruscan Caves, which are equipped with a wonderful Jacuzzi and are often used a natural facilitation space. It also offers a beautiful swimming pool which is naturist and clothing optional.  A comfortably equipped large tent is also available as a facilitation space and love temple.
The Caves: Entrance and Jacuzzi area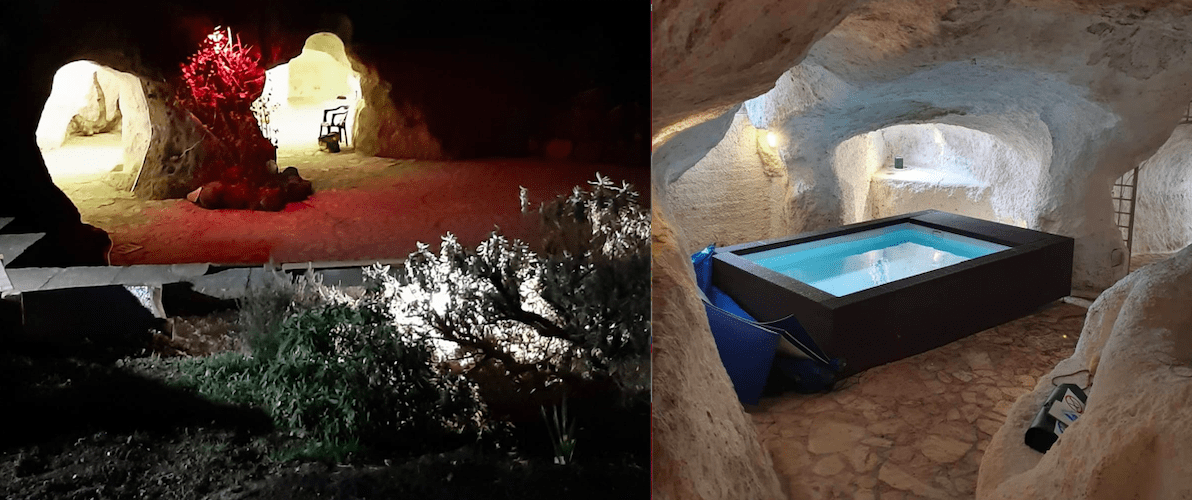 Address: Via delle Grotte, 13, 00052 Cerveteri RM, Italy

How to Get There?
By Car:
An easy 40-minute drive from Rome's historical center.
By Train:
Suncave Gardnes is served by two convenient urban train lines, arriving in the nearby towns of Bracciano and Torre-in-Pietra/Palidoro respectively. Both lines are accessible from Rome's two main railways stations, Roma-Tiburtina and Roma-Termini. The venue's owner and her collaborators offer car rides from either arrival point. These rides are come with a moderate cost and have to be arranged in advance.
By Air:
Suncave Gardens is located in the Bracciano/Cerveteri area, which is only a 20-30 minute car ride from Rome's main airport, Leonardo da Vinci, in Fiumicino (FCO). If you arrive at FCO with a party of 3-4 people, a taxi or uber ride works quite well. Public transport is also available. From FCO one can take a train to Roma Trastevere and change there for a train to Bracciano. Another station to change trains is Valle Aurelia. Train tickets run € 4-5 per person. We recommend googling the route and purchasing tickets in advance from www.thetrainline.com/
Hospitality
The resort offers many options for hospitality. In the main building, accommodations are available in rooms of different sizes, including a multiple room for up to 4 persons, a triple, a double, a single, and a loft space. All bathrooms are shared with at least one neighboring room. In the nearby cottage, a room with 3 beds and one with 2 beds share a bathroom. In the nearby bungalow, a room with a double bed and bath is available. Privacy is at a premium. People requiring single or double rooms can get them at extra charge and are encouraged to request them early.

A quite limited number of extra spaces for camping with one's own tent can be made available when the venue is fully booked.
Thank you!

Meals are served in the welcoming loggia at the back of the main building. The hostess Leslie is an amazing cook! She serves vegetarian meals with and vegan options and uses organic foods and genuine ingredients, many from her own vegetable garden.
The resort caps at a total of 19-20 guests.
For a complete list of full-board prices click here.

Ready for our intro weekend intensive, The Alchemy of Ecosexual Love? The value of the course is € 197. Our early bird offer is open. An intensive course for a full weekend now at only € 127! And our gratitude for joining in the core group.

TO SIGN UP CLICK HERE:
Bonifico a Serena Anderlini – IBAN: DE97 7001 1110 6052 5144 00 – BIC/SWIFT DEKTDE7GXXX – Adddress: Handelsbank, Elsenheimer Str. 41, Munchen 80687 Germany
Did you participate in a 2018 or 2019 edition of this course? We offer the course at no tuition charge if you assist us in making it happen. Assistant seats are limited. Confirm and save yours now here! 
WELCOME. Find out what this Alchemy program is all about and if at this time it is right for you.
PROGRAM. Find all details about the program's content and schedule here.
FACILITATION TEAM. Who is on the facilitation team, what qualifications and experiences can they offer you?
JARDIN DES PLAISIRS. Discover here what this Garden of Pleasures is and what it can offer to you.
Refunds? Until July 28, 100 percent guaranteed. After that date: please ask us and we will do our best.
Can we answer any questions? Please do not hesitate to contact us. We look forward to serving you in your journey of #EcosexualLove. Enjoy!
aka Serena Anderlini-D'Onofrio, PhD
Erstwhile Professor of Humanities and Cinema at UPRM
Convenor of Practices of Ecosexuality: A Symposium
Fellow at the Humanities Institute, University of Connecticut, Storrs (2012-13)
Project: "Amorous Visions: Ecosexual Perspectives on Italian Cinema"
#alchimiadellamoreecosessuale  #alchemyofecosexuallove  #drserenagaia