What is the Wheel of Consent?                                                                                 

It's a magic circle that empowers people to consciously choose and negotiate with others the kind of amorous behavior they like to experience in life.
The Wheel of Consent is a tool of sex positive education, which is appreciative of all styles of sexual and amorous expression, as long as they are agreed upon and negotiated.
Using the Wheel of Consent is a way to encourage conscious responsibility to negotiate scenarios all participants can be proud of, rather than operating based on "spontaneous" personal action that may result in guilt and shame.
The Wheel of Consent is a tool elaborated by Dr Betty Martin, based on her wide ranging experience as a facilitator originally from the Seattle area, Washington State, USA.
For a complete explanation by this wonderful expert, go to this video.
The Wheel of Consent is now widely adopted world wide in programs that emphasize consensual amorous expression and sex positive education, including ISTA and others.
The wheel of consent traces a circle around the expressions of love that are based in negotiation practices, it explains the different types of expressions and their dynamics, and also describes the ones that don t fall within the circle.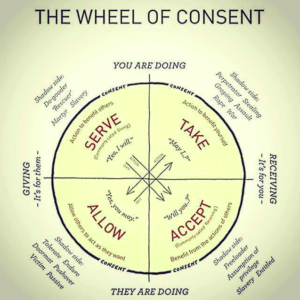 The Wheel is not designed to condemn or judge amorous experiences that happen outside the circle. These can be significant enough to help somebody decide they want to step into the circle and enjoy the respect and pride it affords one. The Wheel intends to support players to consciously opt for negotiated experiences that are sustainable and healthy and can nurture their body, mind and heart.
The Wheel is meant to apply primarily to amorous interactions that involve sentient beings capable of verbal expression, including humans.
The method of negotiating consent it outlines can successfully apply to all areas of human life, including those well beyond sexuality. For example, its use can impact energy fields like the ones that relate us to ourselves, to our relatives, friends, collaborators, communities, tribes, partners, children, pets and other animals. It can even have an effect on how we relate to plants, flower, woods, gardens, and other forms of life, as well as technological devices that function as synergistic system that support our lives, including computers, phones, tablets, cars, trains, airplanes, and many others.
The wheel also contemplates agreements that are negotiated via body language, and it also helps one consider the question of consent while interacting with ecosystems that embody non human forms of life, including animals, plants, bacteria, fungi, and natural elements.
Introductory seminars to this amazing tool of mutually agreed practices of love are offered in English, Italian, french, and Spanish. Seminars include connection rituals, theory, practice, sharing, release of emotions, and completion.
For more information and scheduling contact Dr. SerenaGaia asfo
serena.anderlini@gmail.com, + 39 3294779406 (whatsapp), Serena Anderlini of Puerto Rico, on Facebook and Messenger. Thank you!
aka Serena Anderlini-D'Onofrio, PhD
Erstwhile Professor of Humanities and Cinema at UPRM
Convenor of Practices of Ecosexuality: A Symposium
Fellow at the Humanities Institute, University of Connecticut, Storrs (2012-13)
Project: "Amorous Visions: Ecosexual Perspectives on Italian Cinema"