An Introduction to BiTopia, Selected Proceedings from BiReCon
Serena Anderlini-D'Onofrio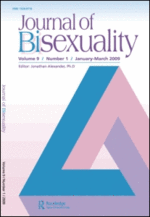 We decided to call BiTopia this volume of the Journal of Bisexuality. What is BiTopia? It's the utopian space where bisexuality is real and present, and also where it is the vanishing point for all the imaginative forms of amorous, erotic, and sexual expression that make life healthy, creative, and fun. BiTopia is also an appropriate way to memorialize the bi utopian space created by the convergence of three Bi university events in the East Dockland area, site of London's traditional harbor. The historic wharfs of the world capital of modern coloniality are being redeveloped as financial districts.

[1]

Public universities serve the children of new migrants. Bisexuality produces knowledge that is transformative and academic at the same time. This introduction is meant as a recognizance tour of that BiTopian space, with Bi Renaissance as its wish and double entendre.
Bisexual communities in the UK and nearby regions have come together annually for almost three decades in a stream of conferences known as BiCon. 2010 saw the 28th edition of this event, simultaneously with 10 ICB, the international bi conference. They took place on August 27-30 at the University of East London, Dockland Campus. BiReCon 2010, an international day bisexuality research, inaugurated the convergence of bi energies and minds, on the 26th. This momentous combination, with the added bonus of travel and research funding from the American Institute of Bisexuality, the welcome of BiCon's well-tuned organizational team, the proactive work of a cluster of UK-based bi researchers (including Meg Barker, Christina Richards, and others), and the congenial public university venue, made BiReCon 2010 a really unique and historic event.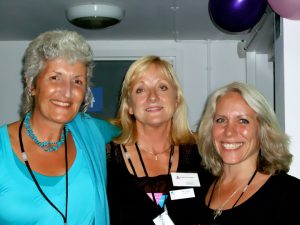 @ BiReCon w/ Regina Reinhardt & Robyn Ochs
It is an honor to be introducing one more special-topics issue of the Journal of Bisexuality. This issue is dedicated to providing access to the knowledge production generated by BiReCon 2010 and making the spectrum of research projects, areas, and finding related to bisexuality accessible to the public. As a speaker at the event, a contributor to the volume, and guest editor who originated the idea for this project, I am proud to introduce its contents. There is always a major difference between flesh-and-bones events and their memorialization on paper. Regardless of one's efforts, there is no hope for a proceedings volume to offer anything anywhere nearly the intensity, momentum, and excitement of the conference itself, or even the memory in one's mind. However, the intent of this volume is to offer what is possible in that way, with the added bonus of the cognitive and epistemic reflections that turned presentations into contributed articles. I am indebted to Brian Zamboni, Editor-in-Chef of the Journal of Bisexuality, for his valuable collaborator as a peer-reviewer in this project. His offer to share the effort is really appreciated.
To be be continued: 2 of 8 – Bisexuality: Meanings and Contexts. Watch out for this exciting section in a few days!
Copyright and Prepublication Notice:
©
Serena Anderlini-D'Onofrio, transferred to Taylor & Francis for upcoming publication in BiReCon, a selected proceedings issue of the Journal of Bisexuality. Prepublished here courtesy of T & F. Stay tuned for volume and buy it online!
---
[1]
For more on the history of the Docklands, I refer to Wikipedia: http://en.wikipedia.org/wiki/London_Docklands
http://polyplanet.blogspot.com