Dear Earthlings:
The year of wonders is what 2012 is supposed to be.  Yours truly offers snippets of her favorite books.  All on yesterday's forbidden themes.  Let's see if their mysteries are revealed.
Eros is a story that staved the loneliness of her first years in the Caribbean, when she was missing her former Matrias,  California and Italy.
What is "color"?  Who are our ancestors?  How did our genetic pools get all mixed up over time, journeys, and generations?  People of different colors have fallen in love with one another since time immemorial.  Yet the very question has become a taboo.  Why?  Loving oneself in another is how that other gets to love the other one hides within.  Crossing the color lines is how we produce love.  Isn't that a win-win?  A world where it is safe to cross the color lines is a world where it is safe to love.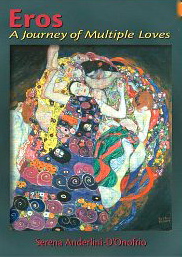 "Cynthia had been my first African-American friend in the UCR compound, her daughter, Sharma, was Sara's favorite playmate.  Cheryl [her sister] was extremely handsome, with an elegance, LA style, that matched her proud deportment.  [We became housemates.]  At my department, colleagues, all male and white, asked me about my housing arrangements and I soon realized that none of them had ever shared their living quarters with a person of color.  The janitor of the building was an African American and . . . when he was in the elevator, I was the only one to share the ride. I wondered why his eyes would remain lowered, and later learned t was a Southern custom. Lynching was a memory that loomed still large, and a black man would not be found looking a while woman in the eye" (56).
The narrative continues as racial crossing becomes a staple of Gaia's practice of love.  Oh blessed be!
Dear Earthlings:

Education is the heart of democracy.  And that includes education to love.  It comes in many forms.  Including learning about Eros and journeys of multiple loves.
Eros: A Journey of Multiple Loves was a Lambda Finalist in 2007.  It is now being considered for translation in to Spanish by a press in Madrid.  Access to this memoir would be a great gift to Spanish speakers across the globe.  If you agree, leave a comment and we will let the publisher know.  Gracias!  
Did you enjoy the post?  Let us know!  Yours truly appreciates your attention.  The comments box is open.

Come back!  And stay tuned for more wonders.
Serena Anderlini-D'Onofrio, PhD
University of Puerto Rico, Mayaguez

Follow us in the social media
http://polyplanet.blogspot.com