"Bisexuality, Gaia, Eros: Portals to the Arts of Loving"
BiReCon: Selected Proceedings from the 2010 Int'l Bisexual Research Conference
Serena Anderlini-D'Onofrio, PhD, Keynote Speaker
Part 2 – Addressing the Audience: Bisexuality and Ecology Today
As I opened my remarks, my first concern was getting a sense of what people heard when the two main concepts of my talk were mentioned: bisexuality and Gaia. "Have bi people thought of bisexuality in relation to ecology?" I wondered. "Do bi people think of sexual expression in relation to global health?" If I was ever going to find out, this was the right place. "What does 'bi' mean to you?" I asked, inviting responses related to bi icons in the media, history, community, LGBTQ landscapes, movements, activism, in the past, in relation to physiology, eroticism, and health. "What does Gaia mean to you?" was my next question, with emphasis on popular culture, science, spirituality, mythology, paganism, art, ecology, and health. A variety of responses came my way, with a sense that enough people had thought of the two concepts together to make this a valuable occasion for my talk. I proceeded with caution . . .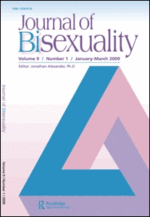 "Can we imagine bisexuality as a portal to a future that's more sustainable in the way we use resources of love? This is a future without the hetero/homo divide. Can we see it in our mind's eye for a minute? Bisexuality, as a transformative force of society, opens up this portal, and, what do we find on the other side? We find a world where the energy of love circulates regardless of gender. Perhaps this is a world where bisexuality is unnecessary, because both homosexuality and heterosexuality have become unnecessary too! Perhaps this is a world where the whole notion of "sexuality" that organizes love as a need or an instinct has become obsolete, because humanity finally realizes that love is an art. Love: the art that makes Gaia gay: that makes her alive." On this occasion, I shared the insight I get from the Italian language that Gaia actually means "gay." "Gaia," I continued, "is used as both a female first name and the feminine form of the adjective gaio." It translates as "she who is cheerful, joyful, allegra, gaia, or 'gay' in the original sense of the word. The Earth is green, and blue, and white, even though we humans have been at war with her for several centuries, with our warfare becoming ever so violent and destructive in recent decades. If Gaia has not turned into a brownish rock like her neighbors Mars and Venus yet, she must be really 'gay'! In this case, bisexuality is a path to the actualization of this joyful, playful, shared, pleasurable mode of existence that enables our species to make peace with our hostess planet."
In the ways of establishing historical memory in relation to bisexuality and nature, I went back to the beginning stages of the bisexual movement, when bisexuals coalesced to affirm our distinctiveness from, and contributions to, the gay and lesbian liberation movement. "At that time," I reminded my audience, "this connection between bisexuality and nature seemed self-evident." As a contribution to a bi classic from that age, Bi Any Other Name, Annie Sprinkle, herself a pioneer and an iconic figure of bisexuality, wrote a piece called "Beyond Bisexual." There she explains this connection in very broad strokes. I read from the book:
"I started out as a regular heterosexual woman. Then I became bisexual. Now I am beyond bisexual—meaning I am sexual with more than just human beings. I literally make love with things like waterfalls, winds, rivers, trees, plants, mud, buildings, sidewalks, invisible things, spirits, beings from other planets, the earth, and yes, even animals" (103).
"Today this feminine/feminist leader of bisexuality has morphed into a pioneer of ecosexuality," I continued. "Annie and her partner Beth cannot legally marry each other, but they organize a series of performance art ceremonies where they marry a force of nature. The next three-way wedding is to Gaia's satellite, the Moon, to be performed in LA on October 23rd. It will be followed by a HoneyMoon the brides will share with a bunch of ecosexuals in the world's first symposium on ecosexuality. 'Ecosexual' comes from the personals, Annie and Beth explained at an event Deborah Anapol and I invited them to in San Rafael, California, last July," I continue.

[1]

"'Heteroflexible,' 'homoflexible,' 'graysexual,' 'pansexual,' 'metrosexual,' 'genderqueer,' 'ecosexual,' 'Sapphist' are some of the buzz-words I hear. If these are the new adjectives people use to describe how they practice love, the shared subtext is that in the new millennium there is fluidity to sexuality, flexibility around the homo/hetero divide, the desire for a spontaneity that feels natural. The 'sexuality' of the new millennium seems to be 'beyond' bisexuality and not quite there yet at the same time. 'Beyond' because all these descriptors have the 'bi' word as a subtext; not quite there yet because we humans are still trapped in the notion of sexuality that organizes love as a need or an instinct rather than an art."
Read the article as it continues to appear in Poly Planet GAIA. Section will be posted every three or four days. Become a follower of the blog and be notified every time a new posting appears.
Acknowledgment: This piece is pre-published here with permission of Routledge, New York, a division of Taylor and Francis.
Bisexuality Research Conference, 28th Bisexuality Conference, 10th International Conference on Bisexuality, London, UK, August 26-30, 2010

BiReCon Proceedings: A forthcoming issue of The Journal of Bisexuality
---
[1]
Recorded in the blogosphere, see "What's The New Politics of Love that People Wonder About?" Posted by Serena Anderlini on July 5, 2010. http://polyplanet.blogspot.com/2010/07/what-this-new-politics-of-love-that.html
http://polyplanet.blogspot.com