Ecosexuality: When Ecology and Sexuality Come Together
Ecosexualidad: cuando la ecologia y la sexualidad se encuentran
Este CURSO NUEVO es un seminario avanzado en las Humanidades que se ofrecera en enero 2011.
It is dedicated to exploring ecosexuality, a movement, orientation, practice, and a theory of love.
What is ecosexuality? How did the concept come about and why it matters? How can it help us to explore the intersections between ecology and sexuality, science and the humanities, global and personal health and love? How does ecosexuality intersect with other orientations and practices of love, including those common among gays, bis, straights, polys, swingers, metrosexuals, and so on? How does ecosexuality contribute to defining our relationship to the environment, to technology, the natural elements, and the web of life that sustains our species? Is nature our enemy, mother, hostess, all of the above?
Books and films in the assigned list may include: Sexual Fluidity, by Lisa Diamond; Sex at Dawn, by Christopher Ryan and Calcida Jetha; Gaia and the New Poltics of Love, by Serena Anderlini; Polyamory in the 21st Century, by Deborah Anapol; Mystery Dance, by Lynn Margulis and Dorion Sagan; Microcosmos and Acquiring Genomes by Lynn Margulis; Sirens, by John Duigan; Shortbus, by John Cameron Mitchell; An Inconvenient Truth, by Davis Guggenheim; Sluts and Goddesses, by Annie Sprinkle; and House of Numbers by Brent Leung.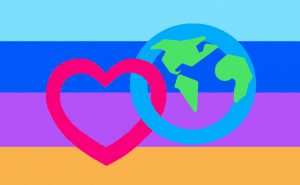 Dr. Serena Anderlini-D'Onofrio, PhD, gave the opening remarks at the world's first Symposium on Ecosexuality in Los Angeles on Oct 24, 2010. She is the author of Gaia and the New Politics of Love, a seminal text of ecosexual theory. She blogs at http://polyplanet.blogspot.com
Excellent reading knowledge of English necessary, Spanish used in class.
Research paper expected at end of course.
!Una oportunidad de no perder!
Offered as Humanities 4995 to begin in January 2011, Tues and Thurs at 5-6:15 PM.
Enroll: see Dr. Noemi Maldonado, Associate Director, Department of Humanities, Chardon 504, Noemi.maldonado@upr.edu
Email questions for Dr. Anderlini at serena.anderlini@gmail.com
The Earth as Lover, art credit to Megan Morman and Cindy Baker.
http://polyplanet.blogspot.com