Dear Earthlings,

Did you get to read my notes and watch the clips about Fellini's cinema? They appeared last week. Now you can take a shortcut and simply watch this video of my presentation to the Fellows group.
I can't go into as much details as i would like to. But it's a good scoop. If you'd like more details, go back to the posting of November 5th, 2012. You'll find out all about I Vitelloni, a 1953 film whose title refers to the overgrown milk-fed calves whose meat Italians like to eat. With this film, the term became synonym of young men who don't take life too seriously and sponge a bit on society, families, women. There's something charming about them, as they live in the moment and are open, flirtations, and cute.

It's great to share some of what I'm doing here at U Conn Storrs in my Fellowship year.

Stay tuned for more posting on Mondays in this series. We will go back in time to the beginning of the Fellowship period, when i introduced the project to the group.
Oh, I almost

forgot this:
Want to know more about yours truly's new book? What Is Love dares to engage the million dollar question! Would like to pre-read? Find out how to endorse the book here.
Education is the heart of democracy, education to love.
Come back for more wonders.
Namaste,


Serena Anderlini-D'Onofrio, PhD
University of Puerto Rico, Mayaguez

Follow us in the social media
Author's Page/Lists all books: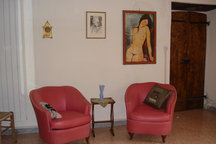 http://polyplanet.blogspot.com