CURIOUS about Dr. SerenaGaia's unique perspective?
INSPIRED by the wealth of her holistic research?
MOVED by her devotion to new and experimental knowledge?
EXCITED about the new paths her devotion has opened?
ENCOURAGED by the wisdom that has evolved with her?
This film tells the story of a 16-year love affair with a beach and the ensuing Wedding of Ecosexual Love.
Devote the next 30 minutes to Playa Azul I Love You, a documentary about Dr. SerenaGaia's evolving life, work, inspirations, and co-creations. Enjoy!
Please note: Looking for subtitles in English? Click on the little wheel at the bottom right of the screen, then click on "subtitles" and choose "English." Enjoy!
WHAT WE ARE UP TO THIS SEASON
This is what excites us. A simultaneous release of two books by Dr. SerenaGaia, each in two languages, English and Italian. The new edition of EROS is an inspirational one. It's also the first ever edition of this memoir in Italian. Alchemies of Ecosexual Love is an inspirational book of dialogs with the forces of nature channeled directly from Gaia.
EROS: The Wisdom of Love / EROS, La saggezza dell'Amore
GOOD NEWS! The book EROS: The Wisdom of Love is now available!
Curious about Dr. SerenaGaia?
Wondering what inspiration her life journeys may offer you?
EROS resonates with essential aspects of human experience. And you are welcome to use it in many ways, as a user manual, as a memoir, as a roman-à-clef, and as an inspirational book!
We hope this offer inspires you to open up horizons and possibilities for inventing one's life as the artwork of love, and for holding keys to the evolving wisdoms the world needs.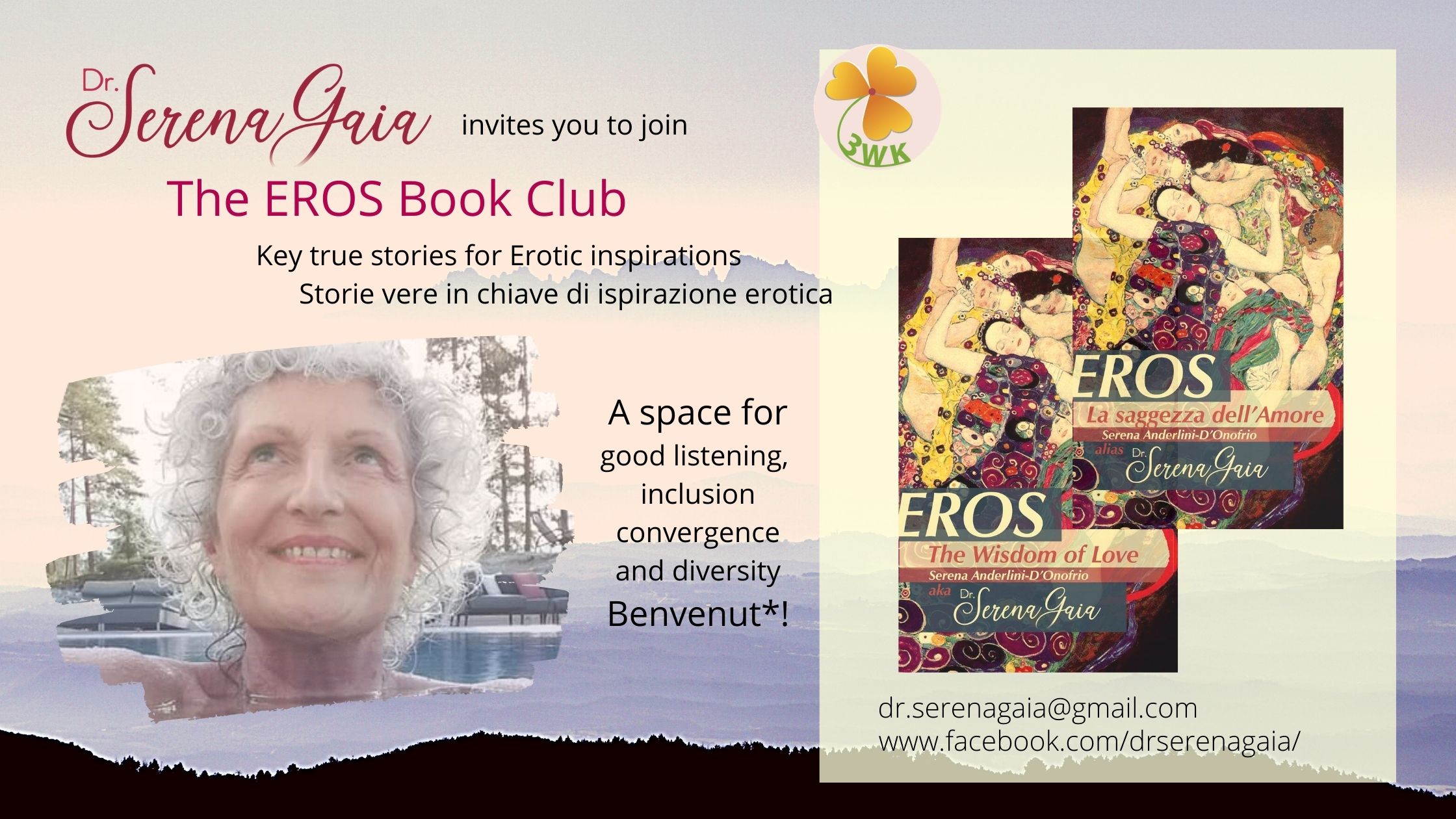 Join the EROS Book Club to stay tuned to all the latest about our project, and get our invitations.
Join the 3WayKiss Podcast series and listen to a reading of the Introduction to EROS.
ALCHEMIES of Ecosexual Love / ALCHIMIE dell'Amore Ecosessuale
What is it? What is it for? Who is it for?
Alchemies of Ecosexual Love: Transmissions from Gaia, Stage 1 is a journey that supports readers in deprogramming themselves from practicing love as mode of acquisition, competition, and conquest, as often promoted by modern cultures, to access again the natural gift that every being has to connect to other beings and to love in sustainable, symbiotic, and ecological ways.
The book is channeled through the voice of Gaia, the ancient goddess of the earth and the name given to one of the most courageous postmodern scientific hypotheses, the Gaia Hypothesis.
Dr. SerenaGaia's work as an author and scholar offers an amazing wealth of holistic research in personal, philosophical, erotic, and scholarly writings. She is the author and editor of a number of significant volumes, including her own authored books and the peer-reviewed collections where she has hosted the work of many others. You are welcome to check out her titles, most of which are available in various formats, including digital ones. Welcome to the Dr. SerenaGaia library!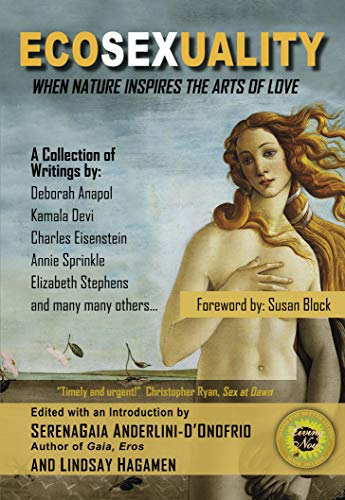 Ecosexuality: When Nature Inspires the Arts of Love
Prices and Available Formats
Available! Amazon, all markets
$ 16.50 paper
$ 3.99 kindle
Is Eros the untapped renewable energy of our time?
The first world wide collection of writings on this topic, Ecosexuality explores the relationship between sex, ecology and social change. It integrates seductive, inspiring and practical approaches to creating a loved-based, sustainable culture. Ecosexuality brings together the voices of 30 visionaries and practitioners to converge the multiple energies of the ecosexual movement, its versatility of styles and diversity of genres convey a compelling variety of perspectives on this emerging social movement.
Can we make love the ecology of life? Can we treat the Earth as the revered lover we all share? Can we truly create a love-based, sustainable culture?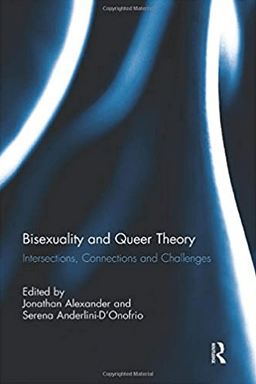 Bisexuality and Queer Theory: Intersections, Connections and Challenges
Prices and Available Formats
Available from Amazon.com
Best option: rental on Kindle, $ 11.85
What is sexuality? What does it mean to have a sexual identity or orientation? What is the relationship between sexuality as a knowledge construct, on one hand, and the often messy flows of desire and practices of love, on the other? How and why are some sexual, erotic, and intimate practices normalized and others marginalized?
Queer Theory has emerged in the West as one of the most provocative analytical tools in the humanities and social sciences. It scrutinizes identity and social structures that take heteronormativity for granted – that do not question the social construction of heterosexuality as normative in relation to its oppositional binary, homosexuality. At the same time, bisexuality is a practice, identity, and orientation that challenges the binary logic around which cultural notions of sexuality are organized. It is a portal to the imagination of a world of amorous expression beyond that divide.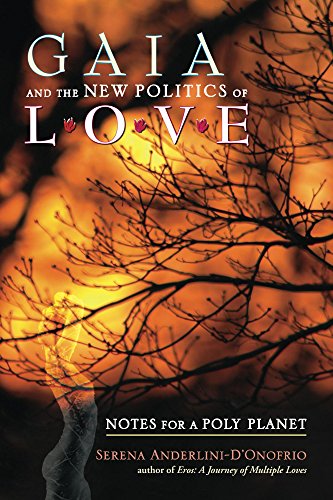 Gaia and the New Politics of Love
Prices and Available Formats
Available! Amazon, all markets
$ 16.50 paper
$ 6.99 kindle
Gaia theory argues that the flora and fauna of the planet operate in a self-regulating web that keeps the world livable. According to the theory, humankind is the most powerful species in this web and also its biggest threat. This provocative book explores ways to minimize and ultimately eliminate this threat with love and intimacy. Dr. Serena Anderlini-D'Onofrio has authored the first global ecology study based on an analysis of human health. Anderlini-D'Onofrio identifies her remedy within the context of Gaia theory, re-envisioning it as a more inclusive philosophy that positively impacts not only relationships, but world ecology under duress. The author links human sexuality to the global ecosystem, claiming that freedom from fear will stimulate a holistic health movement powerful enough to heal relationships and restore planetary balance.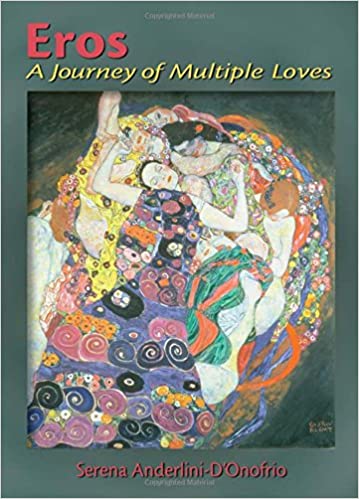 Eros: A Journey of Multiple Loves
Prices and Available Formats
Out of print! Will be out soon again in new editions, for English and Italian!
This poignant memoir that explores the evolution of erotic love through the international and transcultural journeys of an extraordinary woman. This captivating book chronicles the life of polyamorous advocate and postmodern nomad Serena Anderlini-D'Onofrio, whose skillful prose takes readers along the bold twists and turns of her life, and her irreverent critiques of society, education, and sexuality.
In Eros, Anderlini-D'Onofrio describes her formative years in the politically charged Italy of the 1960s and 1970 as well as her development as an independent woman and single mother in America.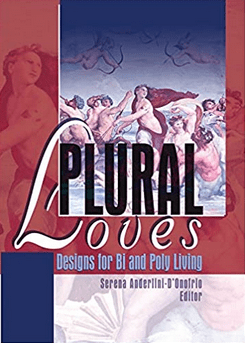 Plural Loves: Designs for Bi and Poly Living
Prices and Available Formats
Available from Amazon.com
Best option: rental on Kindle, $ 9.59
What are the intersections between polyamory and bisexuality? How do people in these communities relate to each other? What is beautiful, empowering, and inspiring about their practices? How are these tropes present in the arts, cinema, and literature? This holistic research collection includes historical and theoretical perspectives, testimonials, reports from the field, and creative writing, Plural Loves: Designs for Bi and Poly Living examines group marriage, polyfidelity, cheating, solo-sex (and group solo-sex), utopian communities, tantric expression and sacred eroticism, transculturalization, and much more. Editor Serena Anderlini-D'Onofrio even includes a candid chapter recounting her erotic experiences with a Catholic priest from Africa—and their meaning in the context of bisexual polyamory.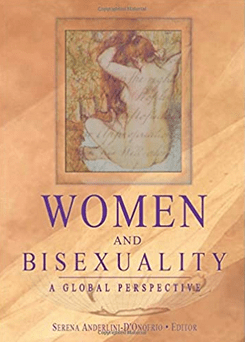 Women and Bisexuality: A Global Perspective
Prices and Available Formats
Available from Amazon.com
Best option: rental on Kindle, $ 9.78
This amazing collection of holistic research reflects the growing contribution bisexuals, and especially bisexual women, make to queer culture on an international level. This unique book presents a collection of thoughtful essays, studies, and reviews that combine to help develop a language that reflects the reality of bisexuality from a feminine/feminist viewpoint. Authors map the inroads made by bisexual studies into conventional disciplines, including anthropology, sociology, health, literature, film, history, and biography, and analyze the situations of bisexual women in areas as diverse as France, North America, Germany, Australia, and Africa.
Dr. SerenaGaia's team research work follows bisexuality to the crossroads of academics and activism.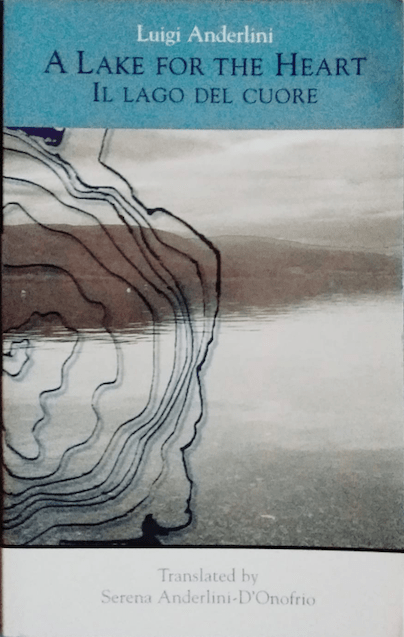 A Lake for the Heart, a collection of lyrical poems by Luigi Anderlini, in a bilingual edition with a translation by Dr. SerenaGaia
Prices and Available Formats
Out of print! Used copies on Amazon.com go for $ 9.67 and up.
Gaia and the New Politics of Love is bracing in its range, weaving together issues of human and global health; the relationship of politics, sexuality, and ecology; practices and styles of love; the changing roles of eroticism and gender in our lives; and polyamory, bisexuality, and the AIDS reappraisal movement.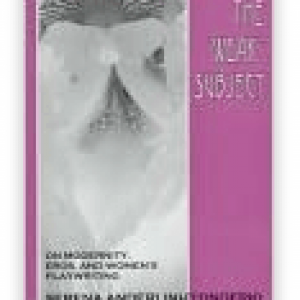 The 'Weak' Subject: On Modernity, Eros, and Women's Playwriting
Prices and Available Formats
Out of print! We have the rights and plan a new edition. We are looking for volunteers. Let us know if you'd like to help out. This book has also been published in Italian translation.
Focusing on the work of twentieth-century American and European women playwrights, this book recuperates for feminism the notions of realism and mimesis, and proposes new readings of modern women's plays. It claims that modern women playwrights establish a new form of mimesis. Drawing on theories of French feminist Luce Irigaray, the author calls this dramatic structure "labial mimesis," marks its difference from the traditional structure based on a male hero, and emphasizes its hospitality to the representation of trust, love, friendship and erotic intimacy among women. She offers a fresh perspective in the lively debate about the viability of realism for feminist writing.
The author's understanding of feminist realism proceeds from her ethical/political model of the "weak" subject and from her superb delineation of the figure of two-in-one. The desires and interrelatedness of this central pair of female characters are the focus of many women's plays. The "Weak" Subject proposes a subtle exploration of the erotic energy and creative intelligence that circulate among female writers, producers, actors, and characters, which complements those found in Tina Chanter's "Ethics of Eros," Laura Doan's "The Lesbian Postmodern," and Terry Castle's "The Apparitional Lesbian."
Visit Dr. SerenaGaia's Author Page on Amazon.com
Holistic Research Published in Peer-Reviewed and Academic Venues
Dr. SerenaGaia's life and academic career has been dedicated to amazing projects based in holistic research in the arts of loving, healing, and living, including topics like sexual fluidity, amorous inclusiveness, ecosexual love, intentional communities, the art of cinema, Gaia theory, and many others.
Her research is widely appreciated in academic communities. Her profiles in research portals like are visited frequently by scholars, students, and knowledge seekers around the world. Her profile on Academia.edu is now complete with all her academic publications. She is overjoyed to make her work available to all those interested, regardless of institutional affiliation.
Welcome to Dr. SerenaGaia's wealth of academic research!
Of the Virus Party: A study that encourages appreciation for community based research in relation to personal and public health.
Explore Dr. SerenaGaia's Profile and Projects on ResearchGate
Go to ResearchGate Profile.
EXPLORE DR. SERENAGAIA'S TEACHING DOCUMENTS
Go to the Teaching Materials session of her Profile.
EXPLORE DR. SERENAGAIA'S PEER REVIEWED ARTICLES
Go to the Peer Reviewed Articles section of her profile.
CURRICULUM & BIOGRAPHY
You're welcome to explore Dr. SerenaGaia's Curriculum Vitae.
You're welcome to download Dr. SerenaGaia's Biographical Paragraph.
You are welcome to go back to the WHY and WHAT YOU CAN FIND area.