What is safety and what does it look like in Covid times? How can we self-source the safety we desire to be caring and aware of ourselves and those around us? How can we share responsibilities for the community awareness we all desire? How can we converge this energy in the in-person events in which we choose to participate?
These questions are probably on your mind as we all open up to being part of events in-presence this summer.
At the School of Ecosexual Love we feel inspired to offer a perspective that we feel is both responsible and empowering, and includes a framework for thinking about them, a list of sources, and some specific guidelines.
We understand you are considering participating in one of our in-presence events in the 2020 summer. We kindly ask that you become familiar with our perspective and ask yourself how well you can align with it. Please feel free to respond and comment. Thank you!
Reflections
For those of us in The Resilience of Love, the online journey that started back in March, we have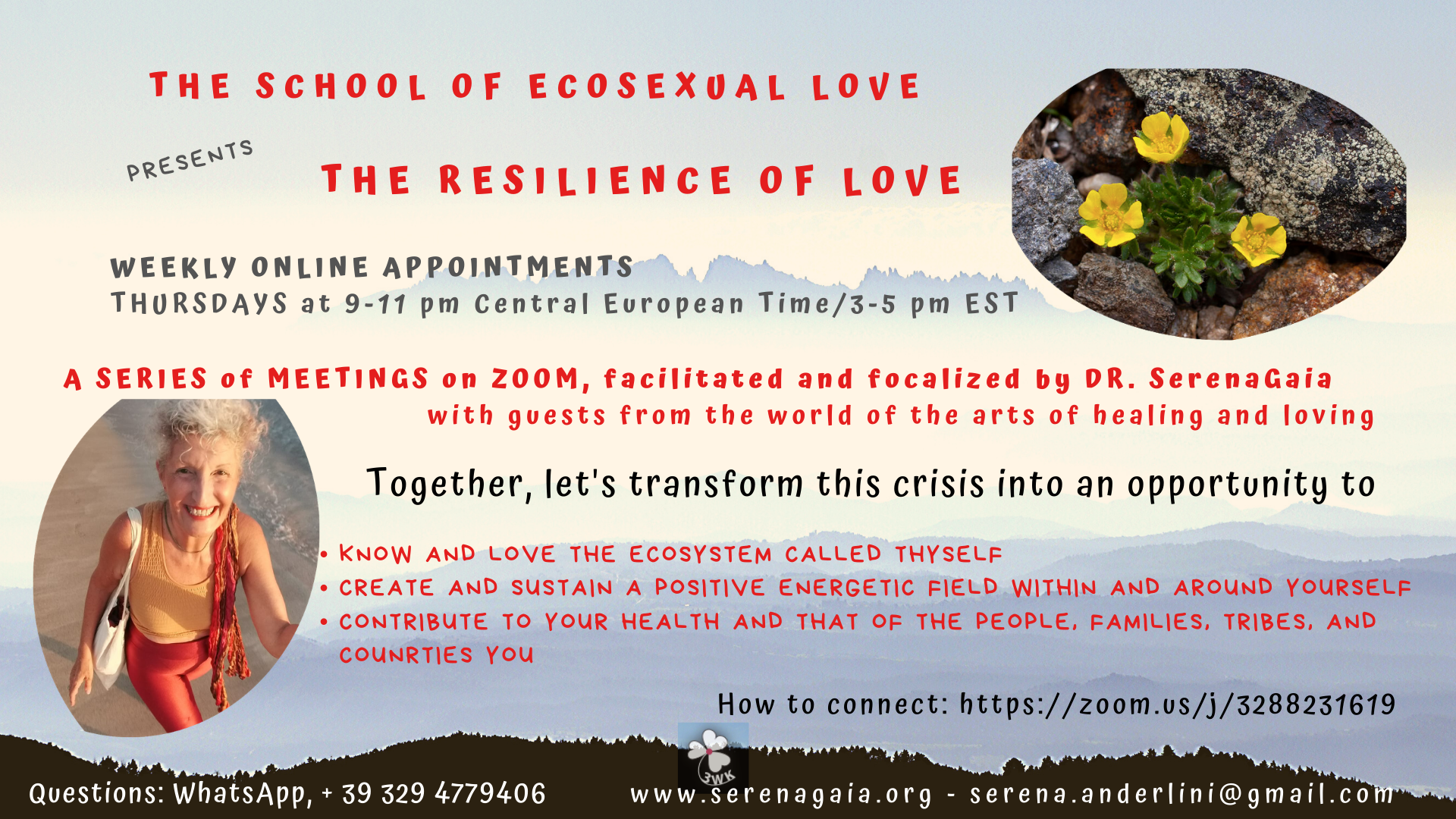 practiced sourcing happiness and health from within ourselves in many ways. These include the expanded Inner Smile, to cultivate our inner balance and well being, the Wheel of Consent, to become aware of our boundaries and of where we position ourselves in a given interpersonal exchange, and more. We've also become aware of how the more simple life required by a quarantine can have its own beauty and happiness, for ourselves, and for all forms of life that accompany us on this journey on planet Earth, including animals, plants, and other ecosystems that benefit from a cleaner environment.
As options for meeting in person with others become more open, and as we choose to respect required practices of public health, we may want to elaborate together a notion of safety that we can all consent to, and that involves practices in which we each take responsibility for ourselves and for those impacted by our behavior.
Rather than accepting the master narrative that outsources "safety" to a hypothetical vaccine and asserts this as the only way to restore the "normalcy" that has been, we propose to imagine a "new normalcy" where the source of safety is in in the empowered awareness that resides within each and everyone of us.  This "new normal" can be co-created and, I dare say, can even be fun!
The "new normal" we propose here is a dynamic strategy to access the kind of self-sourced safety that comes from the eclectic perspective of #EcosexualLove. It navigates the explorable waters between the two main current thought collectives in relation to public and personal health: the allopathic collective, that interprets diseases as "enemies," and the holistic collective, that interprets diseases as "messages" that call our attention to some need for change.
Sometimes these collectives are also envisioned as, the one made of supposedly powerful people who "conspire" to deceive common folks, and the one made of those who willingly listen to whistleblowers adept in theorizing what these conspiracies might be all about. While it's important to be conscious observers willing to listen to a wide array of sources that can be contrasting with one another, especially when many unknowns are still in play, it is also known that excessive attention to "conspiracy theories" and to "conspiring" can produce worries and inner imbalances that are not always useful and can often be undesirable.
We propose a healthier and happier alternative: listening deeply to ourselves. We believe that, from within ourselves, we can summon the courage of sourcing the measure of "safety" we need to get together and trust one another. As a collective, we can become more aware of how we exist symbiotically in relation to each other. As we practice personal responsibility, we contribute to the sense of safety of others. This confidence and trust can generate the freedom we all need to source courage in these not quite post Covid times. It can converge health and happiness into the journey we will share at Suncave Garden.
Sourcing Safety
Where does safety reside? It's an important question to address for anyone wishing to join an event in presence at this time when a significant pandemic has scoured the planet. Here are some of the healthy ways to position "safety" that we, at The School of Ecosexual Love, intend to propose.
Safety resides in our inherent ability to activate the competence of our immune systems by taking good care of our personal ecosystem.
Safety resides in our sense of personal responsibility in containing exposure and thus minimizing risk for ourselves.
Safety resides in our sense of collective responsibility in being accountable for our contacts to those who share a germicule with us, and for being willing participants in any necessary contact tracing. (A "germicule" is a household or group of people who have been Covid bonded during quarantine time.)
Safety resides in our awareness of existing cures, in our trust in our competence in researching them and making them known and accessible, while still refraining from interpreting the existence of these cures as excuses to overlook the need for risk containment.
Safety resides in our ability to stand in a place of confidence in the curability of the Covid-19 desease, while realizing that in practice this may not happen overnight for everyone.
Safety resides in our ability to be models in overcoming the fear of death that a presumed incurability disseminates.
Safety resides in our ability to say "NO" to any invitation to an activity in a journey, activity in which we don't feel fully prepared to participate at the time when the invitation is made.
Safety resides in our ability to choose social distancing during an in-presence event, to the extent that we feel so inclined, and, to choose to shorten distances on as as-we-go basis with participants who also, by consent, feel so inclined.
Safety resides in our choice to bring a tent to sleep or book a single room if we choose to isolate during sleep hours, and to consume our meals away from others if that's what we desire.
Safety resides in our commitment to be totally non-judgmental of our own decisions in these regards, and of those of others.
Safety resides in our willingness to be inspired by the miracles that this symbiotic new normal can create.
Questions for you. How do these ways to self-sourced safety resonate with you? How many of them are you willing to practice? Do you feel inspired about them? Do you feel they align well enough with your philosophy and practices of health?
Addressing these questions well ahead of time offers everyone a chance to reflect on what we propose and evolve a deeper alignment and sense of trust in your own ability to self-source your own sense of safety and to care about that of others. Enjoy the empowerment this brings up!
Thank you!
Guidelines
The next in-person event we are co-creating is the Alchemy of Ecosexual Love, which will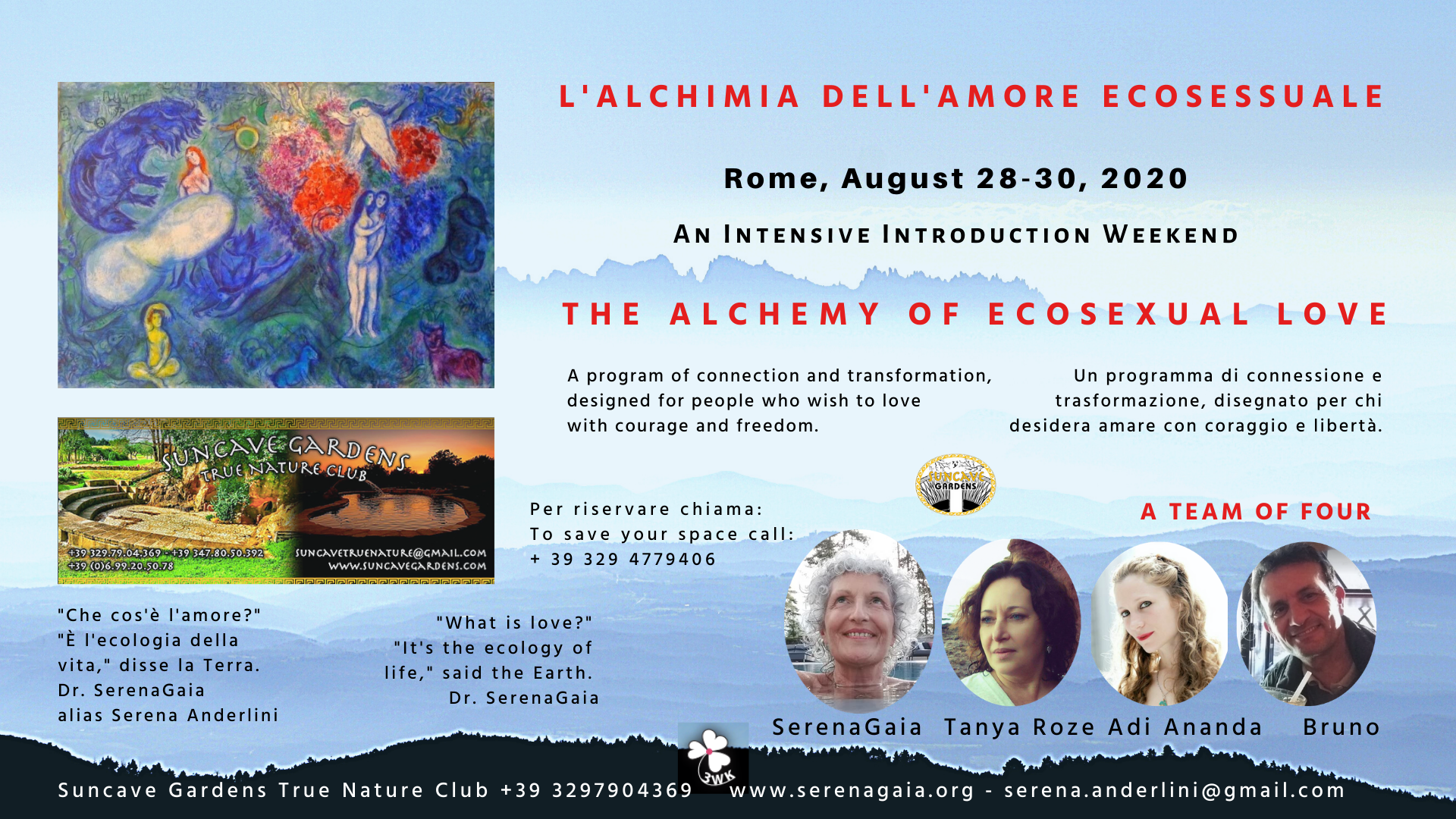 happen at Suncave Garden, August 28-30. The lush, fertile, nature of this garden is healthy and vibrant with fruiting plants, and water-based amenities like pool and jacuzzi. Our hosts, Leslie and Hoppy, are excited to be there for us and offer their Casa Vacanze home style hospitality. It will be a small event to have more space for everyone, with all activities in open-air spaces except for sleep time. The exceptional Italian style cooking of the house is based on locally grown products, with luscious meals and beverages offered in the décor of a blooming garden.
This seems to us an ideal place to practice self-sourced safety with awareness and care for others. The sources that empower groups safety are reflected in the following guidelines we propose for the event:
Monitoring our health in the period immediately prior to the event, and being cognizant of any symptoms that might arise. For example, monitoring one's temperature if one feels it might have gone up.
Minimizing one's exposure to risks in the two weeks prior to the event, so as to also minimize the amount of risk each person brings to the collective of participants.
Being accountable about our participation in a presential event that might involve touch with those people who share a germicule with us and are not coming, so that they might respond and protect themselves to the extent that feels necessary to them.
Remembering that Covid consent, namely the choice of shortening distances or not doing so, is negotiated as we go like any other consent.
Being willing to take responsibility for making our own choices and for respecting those of others.
Being aware that at any time during the journey together, we each can choose to shorten our distance from others and/or to practice social distancing, to the extent that it is possible and practical.
Being aware that, if one requires isolation for sleep time, reserving a single room and/or bringing one's own tent is advisable. Suncave Garden has limited space and we may not have a single room for everyone. The garden is wide and is spacious enough to consume meals at various distances from one another.
Finding a consensus on these guidelines will greatly empower your facilitation team and hosts to offer an ideal context where to open up to health and happiness in Covid times. We hope that you resonate with these guidelines and we invite you to take them into your heart. We ask that you accept them agreement upon which the whole group will come together in safety and trust.
Can you please confirm your alignment with this agreement and can you please let us know in writing? You can email your response to serena.anderlini@gmail.com. A simple message on WhatsApp will also work, please send to +39 329 4779406. Please make sure you clearly refer to the document "Opening Up to Health and Happiness." Thank you!
Welcome to The Alchemy of Ecosexual Love, August 28-30 at Suncave Garden. We have a few spaces left and, unless you've already claimed a spot, we invite you to do so by paying the very modest course fee of € 127 now. If you've saved a spot and are no longer interested in coming, please let us know so we can save it for another person and send you a refund. Thank you!
If you have a ticket to the course, this is a perfect time to choose your favorite accommodation! Please see the venue map and prices. Thank you!
Please Note: Room and full board will be due in cash at your arrival at Suncave Garden.
Daily prices in full board per person run asfo. Single room or double room used as single: € 85.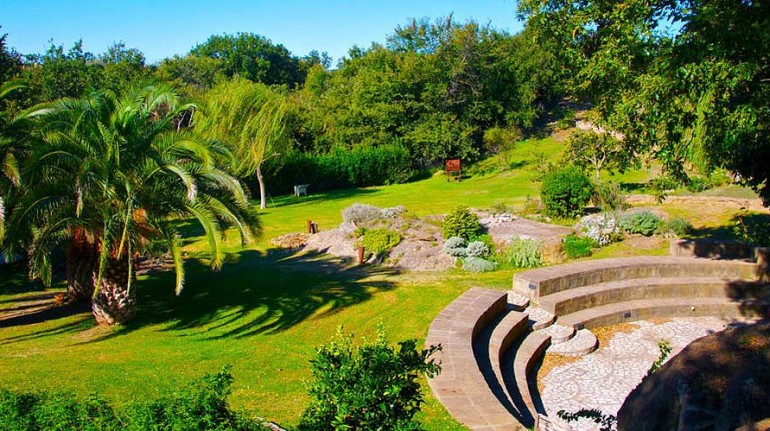 Double room and multiple room with reduced occupancy: € 70. Tent (not provided): € 65. The weekend journey includes 2 nights with breakfast, and 4 main meals, for a total of 2 days in full board, starting with dinner on Friday, the 28th.
The venue is available to guests who wish to stay extra days at the same conditions, and many of us on the team are planning to stay. If you can, you're welcome to book extra days now!
Thank you all for being inspired by opening up to health and happiness in Covid times!
Preparation
Thank you for reading so far. The world has changed as a result of this pandemic. And we believe there is a chance for positive evolution in every crisis.
We understand that deciding to participate might involve a process of preparation that includes spiritual, organizational, and practical aspects. We are offering two online meetings on Zoom, on two Thursdays in August, the 6th and the 20th, 4-6 PM Central European Time. These meetings are designed to address any practical or energetic questions you, as a participant, might have.
Please join us on these meetings. We intend to listen to your questions and assuage all doubts. Thank you!
For those who choose to stay at Suncave Garden after the 30th, private sessions might be possible based on practitioners' availability. Please contact them now! Thank you! There may also be a chance to experiment with beta testing the Symbiosis course, a course we plan to launch in the near future. The beautiful hills and gardens, the naturist pool and jacuzzi, the healthy foods will be there to enjoy for your happiness and health and share with others! We hope many of you will make that choice with us. The same daily rates as for the weekend will apply. Please do let us know of your interest in this option asap, so that our hostess may save a seat for you. Thank you!
Happy deciding! We are confident you will make the best decision for you at this time. We look forward to your confirmation that you resonate with and agree to the proposed guidelines. We are excited to host you at the preparation meetings in August we have designed.
And finally, we are eager to share the journey of The Alchemy of Ecosexual Love with you at enchanting Suncave Garden.
Welcome to the School of Ecosexual Love.
Can we answer any questions? Please do not hesitate to contact us. We look forward to serving you in your journey of #EcosexualLove. Enjoy!

aka Serena Anderlini-D'Onofrio, PhD

Erstwhile Professor of Humanities and Cinema at UPRM Convenor of Practices of Ecosexuality: A Symposium, Author of Multiple Books, Website Serenagaia.org
Note: The content of this article was designed in late June, 2020, by Dr. SerenaGaia, with contributions by Tanya Rozenthal and Adi Ananda. Its content is the basis for activating in-presence events for the 2020 summer with the School of Ecosexual Love.